FourStroke
2.5-3.5 hp
Handheld Reliability
Portable power and thrust for exact operation.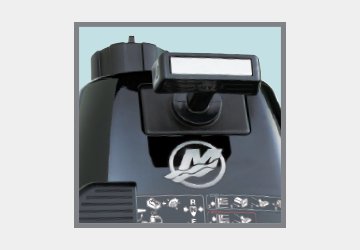 Easy to Start.
Automatic decompression bleeds off cylinder pressure to reduce the pulling force required to start the engine.
Lightweight.
Weighing just 38 and 57 pounds, respectively, our 2.5 - 3.5hp and 4 - 6hp FourStroke outboards are easy to lift and carry.
Precise Control.
Mercury 2.5 and 3.5hp FourStroke engines feature neutral-forward shifting with 360-degree steering for full thrust in all directions.
Shallow Water.
Multiple trim positions enhance performance and enable shallow-water operation.
Specifications
FourStroke: 2.5-3.5 hp
HP / kW
Engine type
Displacement (CID/CC)
Full throttle RPM
Fuel induction system

2-valve pushrod (overhead valve)

Recommended fuel

87% octane / up to 10% ethanol

Recommended oil

Mercury FourStroke Oil 10W-30

Engine protection operator warning system
Starting
Steering
Shaft length

15" / 381 mm
20" / 508 mm

Gearcase ratio
Dry weight *Lightest model available
CARB star rating
Emissions Star Rating
Bore and stroke

2.16 x 1.42" / 55 x 36 mm

Ignition

CDI w/electronic spark advance

Fuel system
Cooling system

Water-cooled with thermostat

Gear shift
Gearcase options
Trim system
Trim positions
Exhaust system
Shallow water trim range (degrees)
Integrated fuel tank (gal / L)
Color

Print Compare With Other Products Request a Quote

| | |
| --- | --- |
| HP / kW | |
| Engine type | |
| Displacement (CID/CC) | |
| Full throttle RPM | |
| Fuel induction system | 2-valve pushrod (overhead valve) |
| Recommended fuel | 87 octane compatible (up to 10% ethanol) |
| Recommended oil | Mercury FourStroke Oil 10W-30 |
| Engine protection operator warning system | |
| Starting | |
| Steering | |
| Shaft length | |
| Gearcase ratio | |
| Dry weight *Lightest model available | |
| CARB star rating | |
| Emissions Star Rating | |
| Bore and stroke | 2.16 x 1.42" / 55 x 36 mm |
| Ignition | CDI w/electronic spark advance |
| Fuel system | |
| Cooling system | Water-cooled with thermostat |
| Gear shift | |
| Gearcase options | |
| Trim system | |
| Trim positions | |
| Exhaust system | |
| Shallow water trim range (degrees) | |
| Color | |

Print Compare With Other Products Request a Quote