FourStroke
25-30 hp
A Three-cylinder Performer
Crisp handling to keep you moving forward
SpitFire and SpitFire Pontoon Propellers.
The advanced design of the Mercury® Spitfire® aluminum propeller combines four aggressive blades with high rake angles and extra cup for tenacious holding and 25% quicker acceleration, with no loss in top speed compared to a three-blade Mercury Black Max® propeller of the same pitch.
The advanced design of the Mercury Spitfire Pontoon four-blade aluminum propeller maximizes blow-out resistance, with extra blade area for outstanding hold in turns and extra thrust around the dock that pontoon boaters need and demand. The Spitfire Pontoon propeller is available for 40 - 60hp Command Thrust engines in 10-, 11- and 13-pitch sizes.
Electrical Support.
A high-output alternator keeps batteries charged and fishing electronics humming.
Dependable starts and performance.
Battery-free Electronic Fuel Injection (EFI) on Mercury 25 - 30hp FourStroke models delivers consistently easy starting, crisp throttle response, increased fuel economy and outstanding overall performance.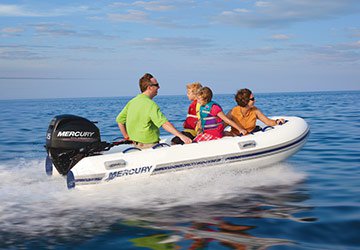 Great acceleration / more torque.
Compact but powerful, Mercury® 15 - 30hp FourStroke outboards feature extra displacement and outstanding low-end torque that put a boat smartly on plane.
Specifications
FourStroke: 25-30 hp
HP / kW
Engine type
Displacement (CID/CC)
Full throttle RPM
Fuel induction system

2 valves per cylinder, single overhead cam (SOHC)

Alternator amp / Watt
Recommended fuel

87% octane / up to 10% ethanol

Recommended oil

Mercury FourStroke Oil 10W-30

Engine protection operator warning system

Low oil pressure
Over-rev
Overheat
Sensor failure

Starting

Electric (turn-key)
Manual

Steering
Shaft length

15" / 381 mm
20" / 508 mm

Gearcase ratio
Dry weight *Lightest model available
Emissions Star Rating
Bore and stroke

2.40 x 2.36" / 61 x 60 mm

Ignition

CDI w/electronic spark advance

Fuel system

Electronic Fuel Injection (EFI)

Cooling system

Water-cooled with thermostat

Gear shift
Gearcase options
Trim system
Exhaust system
Shallow water trim range (degrees)
Remote fuel tank standard (gal / L)
Color

Print Compare With Other Products Request a Quote

HP / kW
Engine type
Displacement (CID/CC)
Full throttle RPM
Fuel induction system

2 valves per cylinder, single overhead cam (SOHC)

Alternator amp / Watt
Recommended fuel

87% octane / up to 10% ethanol

Recommended oil

Mercury FourStroke Oil 10W-30

Engine protection operator warning system

Low oil pressure
Over-rev
Overheat
Sensor failure

Starting

Electric (turn-key)
Manual

Steering
Shaft length

15" / 381 mm
20" / 508 mm

Gearcase ratio
Dry weight *Lightest model available
Emissions Star Rating
Bore and stroke

2.40 x 2.36" / 61 x 60 mm

Ignition

CDI w/electronic spark advance

Fuel system

Electronic Fuel Injection (EFI)

Cooling system

Water-cooled with thermostat

Gear shift
Gearcase options
Trim system
Exhaust system
Shallow water trim range (degrees)
Remote fuel tank standard (gal / L)
Color

Print Compare With Other Products Request a Quote