FourStroke
135-150 hp
Stronger. Lighter. More Durable.
Massive displacement and the lightest 150 hp four-stroke in its class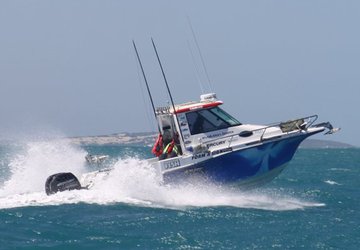 Circumnavigating Australia with Mercury 150 FourStrokes.
Mark Ratchford is calling it his 'huge adventure' which might be an understatement - considering he spent four months on a solo 16,500 km (10,000-mile) circumnavigation of Australia in a 6.5 metre (21-foot) fishing boat powered by twin Mercury 150 FourStroke outboards.
Performance, Durability, Efficiency.
Making 150 horsepower is easy for this 3.0-liter, four-cylinder, single-overhead-cam engine. Its generous displacement lets it churn out power without breaking a sweat. You get exceptional durability and long-term peace of mind.
Compact and Versatile.
It's the lightest 150hp four-stroke outboard on the market. Smart design makes the 150hp Mercury FourStroke nearly 20 pounds lighter than its closest four-stroke competitor, and less than a battery weight heavier than a two-stroke. Potential uses for this engine are endless, including bay boats, boats with poling platforms and pontoons with swim platforms.
Propped to Perform.
The Mercury Enertia® propeller is the perfect complement to the 150 FourStroke. Designed specifically for large four-stroke outboards with a revolutionary low-diameter/high-blade-area design and cast with the Mercury proprietary X7® propeller alloy, Enertia delivers phenomenal acceleration, top speed and durability.
"She Fishes" Chloe Laurence picks Mercury FourStroke
Chloe Laurence is having a great time – breaking down stereotypes while doing what she loves.
A talented fisher with numerous tournament wins to her name, Chloe is helping to eliminate the myth that fishing's just "a bloke's sport" while encouraging everyone to try throwing in a line.
With a focus on inshore sports fishing as well as game fishing for marlin and tuna, Chloe spends as much time as she can out on the water – propelled by a brand new Mercury 150 FourStroke.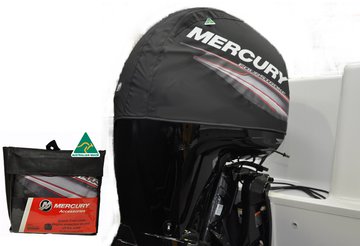 Outboard Cover - Protection for your 135-150hp FourStroke Outboard
Protect your engine from stones, fishing hooks, lures and sinkers, and general wear and tear with these UV-stabilised, water-resistant, premium quality marine-grade covers with breathable mesh venting. A great way to keep your Mercury looking brand-new. Available now from your local Mercury Dealer to fit all new Mercury Outboards from 2-400hp. 
Full covers & combo covers also available.
We've got it covered. 
Specifications
FourStroke: 135-150 hp
HP / kW
Engine type

8-valve single overhead cam (SOHC)
Inline 4

Displacement (L)
Full throttle RPM
Air induction

Performance-Tuned Scroll Intake Manifold

Fuel induction system

Computer Controlled Multi-Port Electronic Fuel Injection (EFI)

Alternator amp / Watt

60 amp / 756 watt (Belt-Driven)

Recommended fuel
Recommended oil

Mercury FourStroke Oil 10W-30

Engine protection operator warning system

SmartCraft Engine Guardian

Compatible with SmartCraft digital technology
Starting

Electric (turn-key)
Smart Start Electric

Controls

Mechanical throttle & shift

Steering

Big Tiller Compatible
Dual cable mechanical
Electro-Hydraulic Power Steering Optional on Duals
Hydraulic power steering

Shaft length

20" / 508 mm
25" / 635 mm

Gearcase ratio
Dry weight *Lightest model available
Emissions Star Rating
Bore and stroke
Ignition

SmartCraft ECM 70 Digital Inductive

Fuel system

Electronic Fuel Injection (EFI)

Cooling system

Water-cooled with thermostat

Gear shift
Gearcase options
Trim system
Exhaust system
Counter Rotation
Color
Lubrication system
Oil Capacity
Maximum Trim Range
Maximum Tilt Range

Print Compare With Other Products Request a Quote

HP / kW
Engine type

8-valve single overhead cam (SOHC)
Inline 4

Displacement (L)
Full throttle RPM
Air induction

Performance-Tuned Scroll Intake Manifold

Fuel induction system

Computer Controlled Multi-Port Electronic Fuel Injection (EFI)

Alternator amp / Watt

60 amp / 756 watt (Belt-Driven)

Recommended fuel
Recommended oil

Mercury FourStroke Oil 10W-30

Engine protection operator warning system

SmartCraft Engine Guardian

Compatible with SmartCraft digital technology
Starting

Electric (turn-key)
Smart Start Electric

Controls

Mechanical throttle & shift

Steering

Big Tiller Compatible
Dual cable mechanical
Electro-Hydraulic Power Steering Optional on Duals
Hydraulic power steering

Shaft length

20" / 508 mm
25" / 635 mm

Gearcase ratio
Dry weight *Lightest model available
Emissions Star Rating
Bore and stroke
Ignition

SmartCraft ECM 70 Digital Inductive

Fuel system

Electronic Fuel Injection (EFI)

Cooling system

Water-cooled with thermostat

Gear shift
Gearcase options
Trim system
Exhaust system
Counter Rotation
Color
Lubrication system
Oil Capacity
Maximum Trim Range
Maximum Tilt Range

Print Compare With Other Products Request a Quote