Mercury News
Feb. 16, 2017
New Mercury Diesel 6.7L engine family unveiled at Miami International Boat Show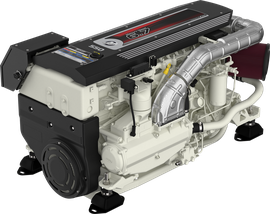 Miami, FL - Mercury Marine is pleased to announce the new Mercury Diesel 6.7L midrange engine family. The new electronic, common-rail engines will be offered with three power levels: 480hp, 500hp and 550hp. They will be available as inboards or packaged with the Mercury Zeus pod-drive.
The new Mercury Diesel engine is compatible with Mercury's full suite of SmartCraft controls and electronics, including optional joystick piloting for inboards and joystick piloting for pods (Zeus).
"Mercury has established itself as providing the best integrated propulsion solutions to our customers," said David Foulkes, Brunswick Corporation's Vice President & Chief Technology Officer and Mercury Marine vice president – Product Development, Engineering and Racing. "This is the first opportunity to provide our fully integrated ecosystem of technology and ease of boating features to our mid-range diesel customer."
"Our strategic partnership with Mercury Marine, initiated in 2015, emphasizes the FPT Industrial technological leadership by providing our customers with best in class product and service, bolstering FPT Industrial's competitiveness in the marine engine business," said Massimo Rubatto, Vice President Sales at FPT Industrial.
The new Mercury Diesel 6.7L engines are assembled at FPT Industrial's dedicated marine engine plant that adopts the latest in quality controls. 
Mercury's new mid-range diesel family offers outstanding acceleration and top speed performance combined with quiet and smooth operation. The state-of-the art engine control system and electronic common-rail fuel injection technology also provides low fuel consumption resulting in affordable operating costs and extended range.
"We want to be our customer's first choice when it comes to selecting a power option. Expanding into the mid-range diesel market offers Mercury the opportunity to deliver on our brand promise to customers in this premium boat segment," said Reinhard Burk, Mercury Marine Senior Director of Diesel & Propulsion Strategy. "With this new offering, the consumer isn't just adopting Mercury's diesel engine, but will have access to our entire range of SmartCraft features, support and most importantly our service network."
For detailed information, including specifications and dimensions, click here to download the brochure.
Features and benefits
Engine
L6 Ladder frame design
Gray Iron, high strength block and heads
Fracture split connecting rods
Rear gear train timing system
Functional engine lay out
Equipped with oil evacuation system
Lubrication System
Self-draining oil filter for clean filter changes
Pistons oil cooled by J-jets
Fuel System
Custom, engine mounted Racor priming pump
Bosch CP3.3 high pressure pump
CRIN 2 fuel injectors
4 micron filter protecting the system
Engine Control
Bosch EDC17 Controller
Controller isolated mounted to ensure durability
Air Intake
Walker filter / silencer included for noise reduction
Turbocharger
Single turbo
Waste gated
Closed cooled
Cooling System
Thermostatically controlled
Closed cooled engine for corrosion protection
Seawater cooled charge air cooler
Standard cabin heater connections
Exhaust System
Closed cooled manifold
Closed cooled turbocharger
Seawater cooled riser
Electrical System
Either 12 V or 24 V available
High output alternator (12V = 90 Amp; 4V = 70 Amp)
Emissions
EPA Tier 3
RCD 2
IMO Tier 2