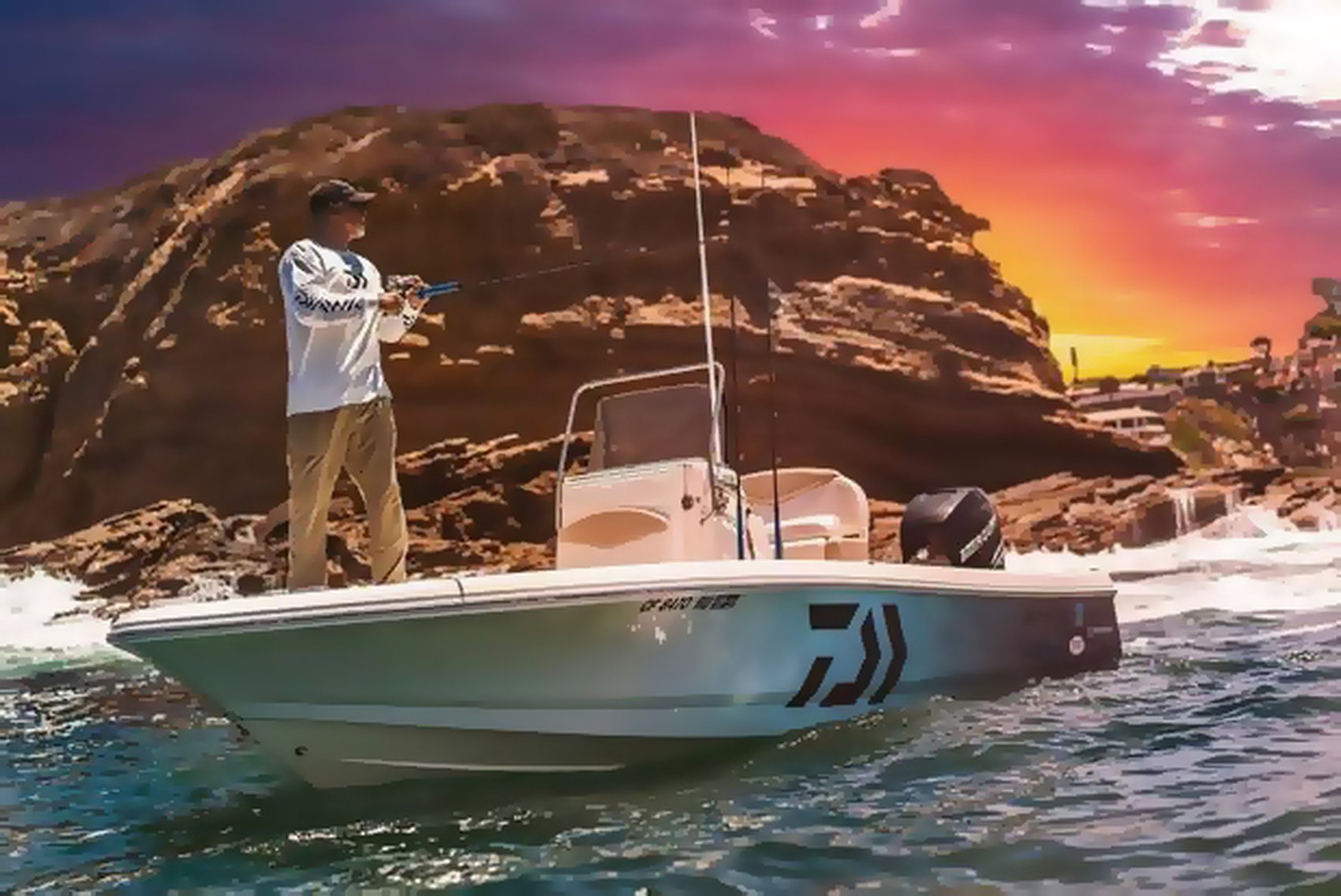 Saltwater bass are among the multitude of fish species that roam the inshore waters off the coast of Southern California. They're a lot like freshwater bass, except generally bigger and stronger.
Ask local charter captain Gerry Mahieu a question – anything at all – about fishing for saltwater bass and you'll soon find yourself drinking from a proverbial firehose of information on the topic. He'll provide more facts than you ever thought could exist about gear or bait or water conditions or weather or depth or anything else related to saltwater bass, and he'll do so in detail and at full throttle.
Then he'll thank you for asking as if you'd done him a favor because he loves talking about what he loves to do. And what he loves to do is clearly evident on his website at, not surprisingly, CatchMoreBass.com where he says "Forget Disneyland . . . let's go fishing."
Mahieu's guide company is All Harbors Charter and he usually launches out of Alamitos Bay near Long Beach. But he trailers his Robalo boat and Mercury 250hp Verado outboard wherever the day takes him, so he can leave from and fish many SoCal locations.
Mahieu constantly applies his considerable knowledge about the inshore and offshore waters off Southern California in his daily search for fish. Depending on the time of day, the weather, the season and more, he might fish only a mile from the harbor he leaves from or maybe as far as 10 miles away. But no matter where he goes, he goes there like a kid on vacation.
"To me, guiding will never be work," he said. "I have a lot of return clients, but I also see many that I've never met before. Some come a long way to fish this area. My kids will ask me if it's weird to go fishing with people I don't know, and I tell them I love it because I learn something new from everyone I fish with."
Mahieu will often seek three types of saltwater bass – calico, sand and spotted bay – but other local inshore targets include white seabass, ocean whitefish, halibut and more. Yellowfin tuna, big bluefin tuna, mahi mahi and can be found not far offshore. As many anglers will tell you, "fishing" doesn't always mean "catching," but Mahieu works hard to make both happen every excursion he captains.
"My goal is to provide a great day on the water, and if I can do that I'll never burn out as a guide," he said. "People pay for a good experience, so when I see them catch fish it's extremely rewarding. I'll do whatever it takes to get them on fish.
"I fished with (B.A.S.S.) pros Skeet Reese, Aaron Martens and Brent Ehrler and had a blast. Everyone had a great time, especially Aaron. He fished every possible second. He's an animal out on the ocean!"
Those three anglers know as much about freshwater bass as any anglers alive. Martens, who grew up in California but now lives Alabama, is a three-time B.A.S.S. Angler of the year and four-time runner-up in the Bassmaster Classic. Reese lives in Auburn in northern California and was the 2009 Bassmaster Classic champion and the 2007 B.A.S.S. Angler of the Year. Ehrler, a 2015 B.A.S.S. rookie who lives down the freeway from Mehieu in Newport Beach, California, has qualified for four Bassmaster Classic championships.
Mahieu's charter business is a full-time gig, but he also finds time to run his Saltwater Bass Tournament Series and its many events. As is the case with most hardcore anglers, he started fishing not long after he started walking and never quit.
"When I was pretty young my mom would drop me off early in the morning at one of the local parks and I'd fish all day," he said. "When I was 10, I took fly-tying lessons and she'd stand over my shoulder to make sure I did it right. That's the approach I've taken with all my activities, whether it's chartering or running a tournament.
"Nowadays my wife will say, 'You love fishing more than you love me," and I'll say, 'Nah, I've just known fishing longer than I've known you.'
"I like to stay busy. I always have. And I really love fishing, so it all works out."
Long before he dreamed of owning a tournament series or starting a charter business, Mahieu was a tournament contestant himself.
"I've fished freshwater tournaments since 1979," he said. "I still get excited when I fish them. And it's not just the fishing I love, it's everything that leads up to it, including getting my gear ready for the next event. That sounds crazy but it's true.
"In the early 2000s I got an idea for a saltwater series and started putting it together. The series started in 2011 and at first the payouts were small and the turnouts were low, but I hung in there and soon I was able to offer better paybacks and a 90hp outboard.
"Now we have a Master's Division and have added a Rookie/Family Division in the Saltwater Bass Series. The payback is what it should be, and we get 50 boats in the field. You have to have good paybacks, a fair and level playing field, great food after the tournament and a free basic entry championship at the end of the season. And you have to have a goal, so we're able to give away a Mercury 115hp FourStroke to one of our contestants at the end of the season."    
If you're ever in Southern California, look up Gerry Mehieu and ask him about fishing. He'll tell you everything you need to know.