Back to Dockline
1 Jul 2022
An innovative advancement in boat technology from Platypus Craft has been developed to change how the underwater world is explored.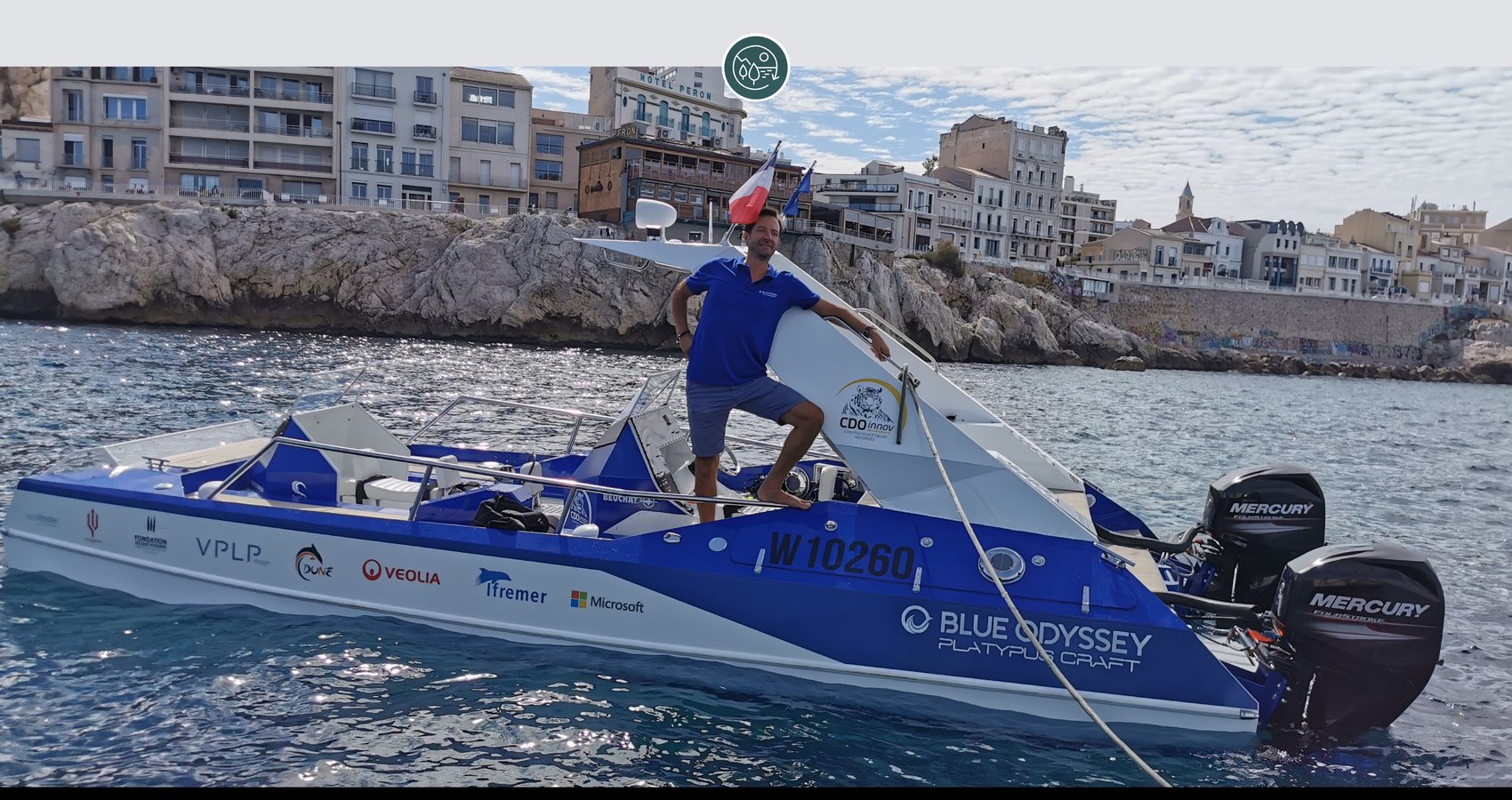 It goes way beyond just recreational use too, with implications that are perfect for environmental cleanup. Mercury Marine has joined to support the eco-mission to power this venture.
What is Platypus Craft?
The boat from Platypus Craft is unlike any other vessel you've seen. It's a unique 7.50m-long vessel that cruises like a trimaran with an incredible twist. The center section where the captain and passengers sit lowers completely underwater where sea life is revealed like never before.
The semi-submersible vessel is the first of its kind, and passengers aboard breathe air through supply hoses attached to air compressors, much like deep sea divers would use. The platform lowers two meters underwater for a completely immersive experience, traveling at a speed of three knots while providing a 360-degree view below the water level. With a hookah system that connects divers via 15-meter hoses, there's no need to stay seated while you explore either.
While Platypus Craft's vessel is ideal for eco-tourism and diving applications to simply explore underwater, they've started Blue Odyssey, an initiative to seek out and clean up plastic that's been discarded at sea. Explorers can detect and recover plastic waste from waterways and oceans so they can be safely recycled. Because of the long hookah lines, divers can extend outward or downward to retrieve waste, collect it, and bring it back to the Platypus Craft.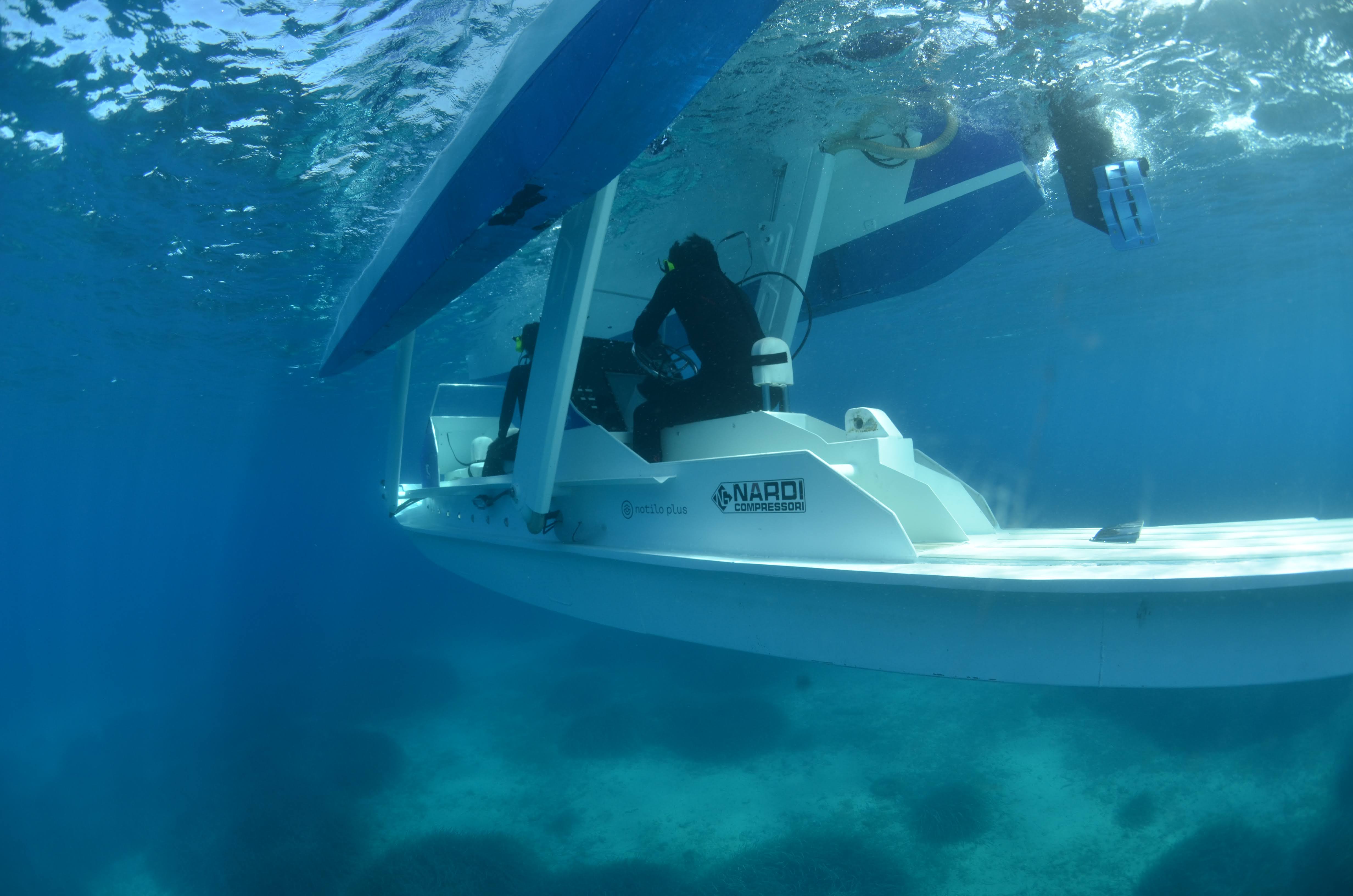 Combining exploration with environmentalism
The concept of a semi-submersible boat is more than 10 years in the making by founder Francois-Alexandre Bertrand. It was during a trip to Cairns, Australia that the idea struck, while exploring the Great Barrier Reef and noting the devastating pollution on the seabed. A lover of scuba diving, it made sense to hybridize a boat to function for clean-up purposes.
More than 600,000 tons of plastic waste are dumped into the Mediterranean annually from the 22 countries in the Mediterranean basin. Only 1% of plastic remains at the surface, while 99% eventually sinks to the sea floor. Cleaning up the oceans and waterways can help protect sea life. Since the sea is a major source of food for humans, not to mention beauty, transportation, and recreation, eliminating pollutants is a monumental task of even higher importance. Francois-Alexandre's project, Blue Odyssey Initiative, aims to start that environmental mission in coastal waters with the vessel from Platypus Craft.
The first expedition for the Blue Odyssey Initiative is set to depart soon. It sets out from Nice on June 8th and expects to reach Marseille by June 28th in partnership with Expedition 7e Continent.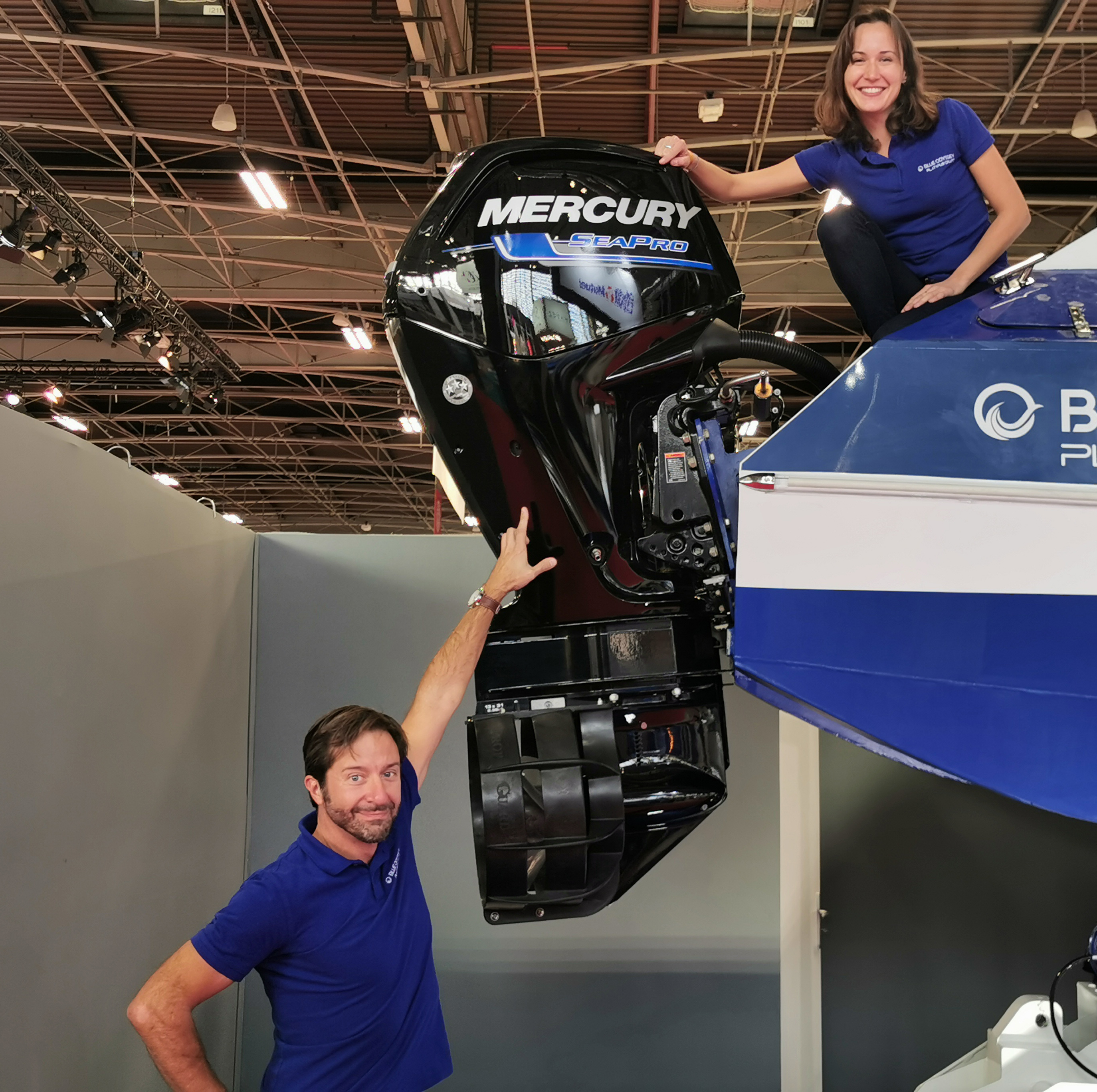 Why Platypus Craft choose Mercury
The uniquely designed boat travels at up to 3 knots underwater for exploration and to identify and collect pollutants. On the surface, it can travel at speeds up to 25 knots.  That's because Mercury Marine has partnered with Platypus Craft, powering the vessel with Mercury SeaPro engines. The trimaran operates with dual 115 hp Mercury engines designed to operate in the harsh saltwater conditions that Francois-Alexandre and his team will be taking the Platypus Craft as they work to improve the environment.
François-Alexandre chose SeaPro, Mercury's commercial series for its reliability, heavy-duty components, and preference for low-end torque over pure power. He said, "We have a work boat first and foremost, and even if it looks good and goes underwater, we need maximum reliability and thrust. That's what the SeaPro engines offer. We opted for two 115 HP engines to have maximum performance, but also to have the best power-to-weight ratio on the market.
"Also, we consume a lot of electricity on board, for the hydraulic lift and the hookah breathing system, so we have a large battery bank and need to recharge it constantly. With two 35-amp alternators, our 115-hp SeaPro's offers us the best possible autonomy. Finally, the looks of the engine, they look beautiful on our boat".
Mercury Marine partners with initiatives like Blue Odyssey in the goal to make the world a better place through sustainable processes and actions. Learn more about the Blue Odyssey initiative, Platypus Craft, and Mercury Marine's sustainability practices.