Drives
Bravo Three®
The Ultimate In Efficiency And Agile Handling
Featuring dual contra-rotating propellers, the Bravo Three® gives you great steering control in the marina and incredible performance on open water.
The extra blade on the propellers lets your boat plane-off at a lower speed for optimal fuel efficiency.
Efficient design for minimal bow rise.
Advanced acceleration for better forward visibility.
Single/twin applications up to 65 mph, gas engines up to 525hp or diesel engines up to 370hp. Acceleration, maneuverability, and efficiency.
Bravo Three, Bravo Three X®, Bravo Three XR for gas stendrives; Bravo Three X Diesel and Bravo Three XR Diesel for diesel engines.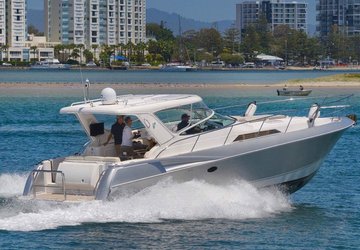 V8 hero Russell Ingall enjoying Mercury Diesel power and Joystick control.
With the motor racing season slowing down for the holiday period, Aussie racing legend Russell Ingall is looking forward to spending some quality time in his newly renovated Riviera M400. 
Powered by a pair of Mercury Diesel TDI 370hp engines with Bravo 3 drives, and controlled via Mercury's Joystick Piloting system, the boat has been a special project for Russell who's particularly proud of the outcome.