Mercury News
16 Dec 2018
First big win for new 300R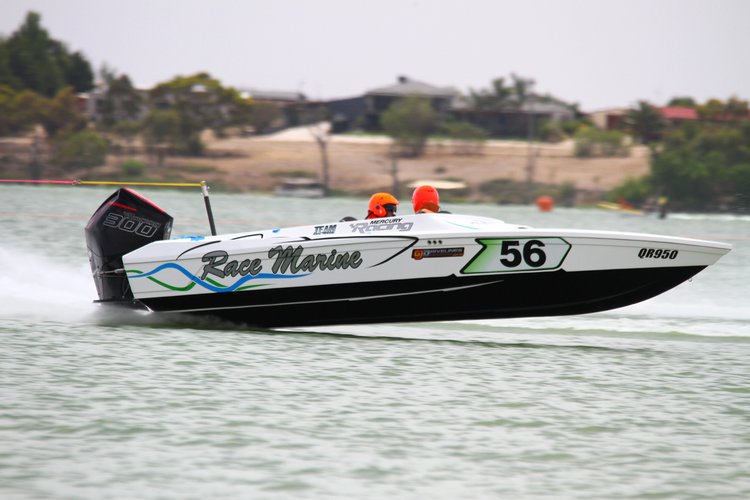 Race Marine team clinches Victorian crown in first big win for new Mercury Racing 300R
Mercury Racing's all-new 300R outboard has clinched it first major ski racing crown, pushing Race Marine to victory in the Unlimited Outboard class at the Victorian titles.
With racing stalwart Dave Bishop at the wheel and Mark Boyer observing, Race Marine finished two full laps clear of the competition. For skiers Jack and Sean Stevens, it was another great win following their recent victory in the Bridge to Bridge classic behind Pigs Arsenal (QCV4). 
"It was a perfect race really," Dave said. "We started well back on the grid with places pulled out of a hat but by the second lap we'd moved up a lot and from there it all went to plan."
A great outcome considering it was the first time Dave had seriously competed with the 300R.
"We raced with a Mercury 300XS for four years and picked up a lot wins – state titles, national titles, Southern 80 crowns - but this engine's better," he said.
"It's unbelievable for torque and horsepower. It's got better acceleration and better top speed.
"We're turning bigger props and we're probably 5 mph (8 km/h) faster than we were. With two skiers, we're running at 84 mph and we're hardly using any fuel.
"It's that good and we're still in the early stages. I think there's a lot we can do to improve our overall performance even more."
Designed, developed and manufactured in-house, the naturally aspirated V-8 4.6L FourStroke 300R shares Mercury Racing's venerable Quad Cam Four Valve (QC4) sterndrive DNA.
With the V-8 powerhead providing an astounding 44% greater displacement compared to the legacy two-strokes, four valves per cylinder and a dual overhead camshaft valve train, the new 300R generates unprecedented torque and unmatched acceleration from the lower end of the power band up to maximum engine speed, all on regular unleaded fuel.
Dave acquired the new engine, just the second 300R ever imported here, for a very specific reason - to make it to the World Championships being held next year in France.
"To make it to France we knew we needed the newest engine with the best technology, so that's what we got," Dave said.
"The fact that we won our first race so convincingly bodes well but there's a long way to go with seven selection races just to make it into the Aussie team."
Through testing and the race itself, Dave has been impressed with the way the 300R has worked with Race Marine's 21-foot V7 Velocity Racing hull.
"It goes to prove what I've always said, that Simon Isherwood and his guys are the best in the business. They build fantastic boats," he said.
"And while I'm thanking people - thanks to Mercury for supporting the team and me personally. There's no other company that has done as much for ski racing in Australia."