Mercury® Remanufacturing
Plus-Series Alpha Sterndrives
A line to repower sterndrive boats with value performance.
Ready to pair up with an Alpha® drive.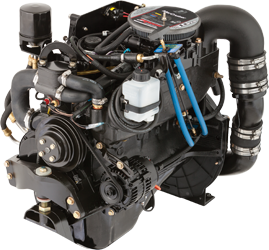 3.0 Alpha® TKS
135 Crankshaft Horsepower
The ideal repower for your runabout or pontoon boat using the classic front engine mount system. No Power Steering - The best value available with Turn Key Starting.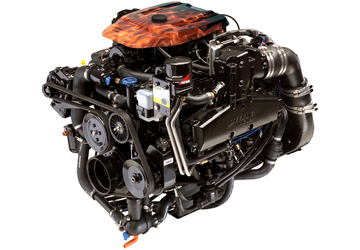 350 MPI Alpha
300 Crankshaft Horsepower Thanks to its size and power, this is the ideal replacement engine for 5.0L, 5.7L, 5.0 MPI and 5.7 EFI engines that power cruisers, small boats and large runabouts.
Specifications
Mercury® Remanufacturing: Plus-Series Alpha Sterndrives
Part number
HP / kW @ flywheel
Maximum RPM (WOT)
Engine type

V-8 Remanufactured Iron Marine Block

Displacement (CID/L)
Bore and stroke

4.03 x 3.48" / 103 x 88 mm

Compression ratio
Fuel ethanol tolerance
Engine control system

ECM 555 W/Knock Control & Crankshaft Trigger

Fuel delivery system

GEN II Cool Fuel with Boost Pump

Fuel injection system / carburetor type

Multi-point electronic fuel injection (MPI)

Air induction

Two-piece long runner intake with 75 mm throttle body (80 mm w/DTS)

Alternator amp / Watt
Water drain system
Exhaust system

Iron manifold with Dry-Joint Exhaust Elbow

Cooling system
Accessory drive system
Lubrication system

High Flow 60 psi Oil Pump

Recommended oil

Mercury MerCruiser Synthetic Blend 25W-40, NMMA Certified FC-W Synthetic Blend

Pistons
Cranktrain

Powder Metal Rods and Nodular Iron Crankshaft

Rocker arms
Dimensions (L x W x H)

32 x 30 x 22" / 814 x 740 x 559 mm

Weight (engine only)
Compatible drives (application dependent - contact sales or service)

Alpha 1.47:1
Alpha 1.81:1

Print Compare With Other Products Request a Quote

| | |
| --- | --- |
| Part number | |
| HP / kW @ flywheel | |
| Maximum RPM (WOT) | |
| Engine type | Remanufactured 3.0L GM Inline-4 Marine Iron Block & Heads |
| Displacement (CID/L) | |
| Bore and stroke | 4.03 x 3.60" / 102 x 91 mm |
| Compression ratio | |
| Fuel ethanol tolerance | |
| Engine control system | |
| Fuel delivery system | 2V Merc Carb with Automatic Enrichment for Turn Key Starting with Mechanical Fuel Pump |
| Air induction | |
| Alternator amp / Watt | |
| Water drain system | |
| Exhaust system | Iron manifolds with electro-deposition paint coated dry joint exhaust elbow |
| Cooling system | |
| Accessory drive system | |
| Lubrication system | |
| Recommended oil | Mercury MerCruiser Synthetic Blend 25W-40, NMMA FC-W rated |
| Cranktrain | |
| Rocker arms | |
| Dimensions (L x W x H) | 29 x 22 x 21" / 730 x 565 x 526 mm |
| Weight (engine only) | |

Print Compare With Other Products Request a Quote
Documents