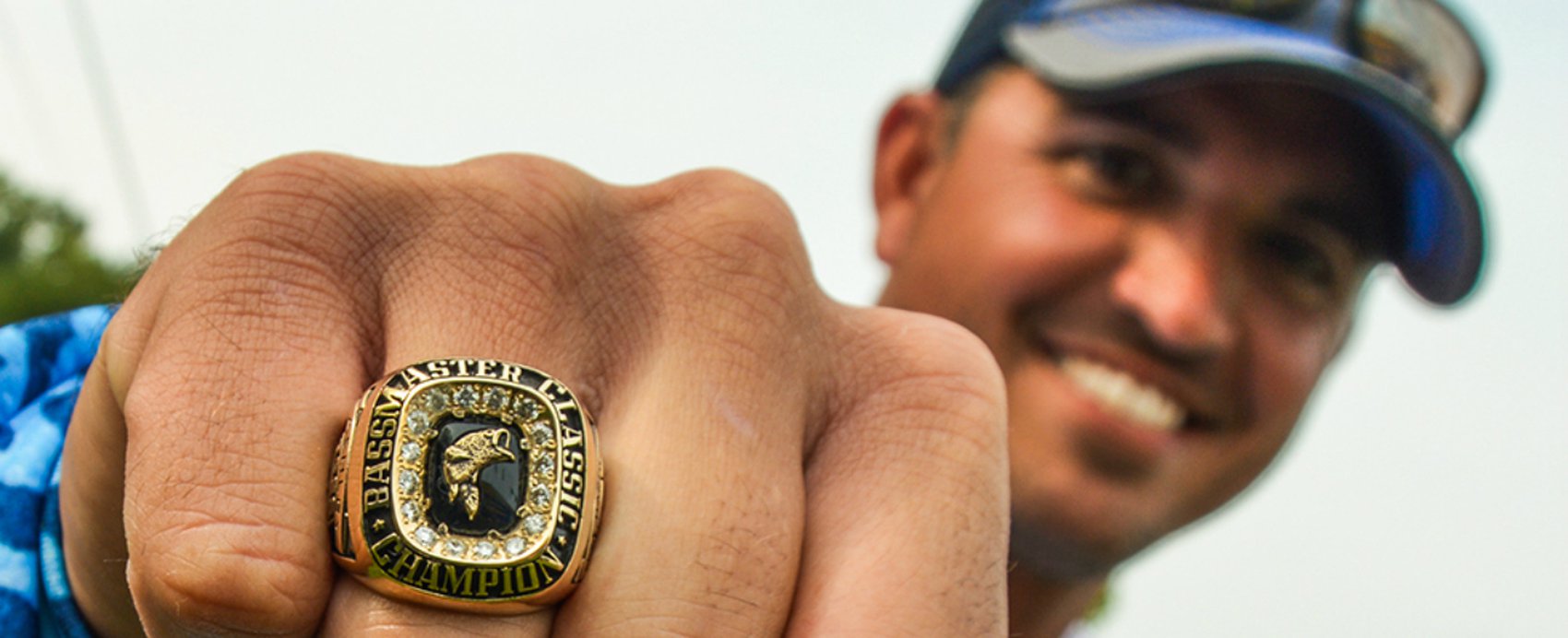 Final-day flurries have carried Mercury pros Howell, Ashley and Evers to three consecutive Bassmaster Classic championships
Casey Ashley remembers the moment – more precisely, the feeling of the moment – like it was yesterday: Feb 22, 2015 at the Green Pond launch on Lake Hartwell, South Carolina.
Low clouds and a light, misty rain hovered over the final-day takeoff of the 2015 Bassmaster Classic, and Ashley, who grew up in nearby Donalds, South Carolina, sat in fifth place, within 2 pounds of the lead. As he cranked up his 250 Mercury ProXS and headed to his first spot of the day, he knew with almost certainty that the first two hours of the day would determine whether he would become a Classic champ or a victim of the event's longtime "hometown jinx."
"I was fishing on the exact same fish that morning that I'd been fishing on all week, but I knew if I was going to do something special, it was going to be on that day, and first thing in the morning," Ashley said. "The stars all have to line up to catch over 20 pounds on Hartwell that time of year. And you know what? They did."
Ashley had 17 pounds in his live well in the first hour that Sunday morning, and went on to weigh 20 pounds, 3 ounces to waltz away with the trophy by 3 pounds.
Such is the way of the world's most coveted bass-fishing title, where fortune and "stars aligning" are sometimes as important as skill, knowledge and top-of-the-line gear. As a matter of fact, the last three Classic (including Ashley's) were ultimately decided by Championship Sunday flurries that catapulted three Mercury anglers from the Top 10 to the pinnacle of tournament bass fishing:
Randy Howell's 2014 Guntersville Lake miracle
How far back was Alabamian Randy Howell heading into the final day of the 2014 Classic on Guntersville Lake in central Alabama? So far back in 11th place (9 pounds behind Day 2 leader Edwin Evers) that he joked around with photographers as he munched on a banana before takeoff.
"Maybe this banana will give me the vitamins I need to make a miraculous comeback today," Howell cracked.
It might not have been potassium and Vitamin B that fueled Howell that morning, but whatever it was, it propelled the longtime Mercury pro to a Championship Sunday flurry for the ages. Instead of sticking to his original plan to fish Mill Creek, Howell succumbed to what he's frequently described as "this overwhelming urge to turn around" and throttled down his 250 Mercury ProXS outboard just long enough to make a snap-turn toward a causeway bridge in nearby Spring Creek.
That turn and that decision to fish one causeway bridge in Spring Creek turned into a legendary Classic moment: Howell caught a pair of 3-pounders on his second and third casts, and a 7-pounder on his third cast on the bridge's rip-rap with a crawdad-colored crankbait. He had a limit in 10 minutes, and never stopped catching fish until it was time to check in for the day, when he brought 29-2 to the scales in Birmingham.
"I caught over 100 bass that day, and who knows how many pounds?" Howell admits. "The first two hours of the day, my marshal had logged 83 pounds onto BASSTrakk. I threw back so many 20-pound bags that day, it was unbelievable. I've had days where I've caught 50, 60, 80 fish off one school of fish, that never a day like that."
Howell finished that Classic with 67-8 (the second-heaviest total weight in the event's history), winning by 1 pound and completing the biggest final-day comeback in the 45-year history of the event.

Casey Ashley's hometown "homemade" Classic win
Ashley's 2015 Classic victory was marked by more than just the "hometown hero" story. Thanks to a wicked cold front that blew through South Carolina the two days prior to the event, morning temperatures plunged to the low single digits, causing boats to freeze to trailers at the Hartwell launch and live well hatches to freeze shut, delaying Day 1 launch by two hours.
Ashley gutted it out with 15-3 on Day 1 and 14-11 on Day 2, setting himself up to take advantage on Day 3 of his familiarity with the lake.
"Fishing deep like I was (35 to 40 feet), I had an idea that those fish would bite better first thing in the morning," Ashley says. "It was in the low 40s that day – the warmest it had been all week – and cloudy, with no wind. It was the perfect set of conditions. It was just a magical day. I could no wrong. Every bite, when I needed it, was the right bite. Hometown advantage or whatever it is, it was just my time."

Edwin Evers' bold final-day move to claim 2016 Classic
Heading into the 2016 Classic on Grand Lake O' the Cherokees in Oklahoma, 11-time B.A.S.S. winner Edwin Evers had quietly acknowledged that his longtime Elite Series travelling partner and best friend, Mercury pro Jason Christie, was likely the odds-on favorite to win.
Christie had grown up in nearby Park Hill, had started his tournament career as a youth on Grand, and had won dozens of events on this impoundment of the Lower Neosho/Grand River.
And through the first two days of the event, it looked like Christie would indeed be impossible to beat: he had built a 6-pound lead over Todd Faircloth and Evers, and took off from the Wolf Creek Park launch needing only to find an average limit, or for one of the other anglers in the Top 5 to have a monster day.
Which is exactly what Evers did.
Deciphering that a morning wind on Championship Sunday might cause fish to bite better in an area on the Elk River that he hadn't fished yet in the tournament, Evers ditched his Day 1/Day 2 spots and headed upriver to the Elk. It turned out to be the best decision of the Oklahoman's 20-year B.A.S.S. career.
By 11 a.m., Evers had an estimated 24 pounds of Grand Lake largemouth in his live well, and had surged past Christie's 6-pound lead to build a 10-pound lead of his own.
"I just wanted to pull into that creek, maybe catch a couple of big ones and then go somewhere else to fill out my limit, but it just turned out to be a magical day," Evers says. "I needed perfect, perfect conditions for that body of water. I needed some clouds, I needed some wind, and I got both of those. It started at about 8:15 a.m., and was all over with by 10. It couldn't have worked out any better – it was just amazing."
Evers finished the day with 29.3 (the third-best single-day limit in Classic history) and 60-7 for the event, winning by more than 10 pounds.
NOTES: The 2017 Bassmaster Classic will be held March 24-26 on Lake Conroe, Texas … weigh-ins will be staged at Minute Maid Park in Houston, home of the Houston Astros … Mercury pros have claimed 10 of the last 12 Classic titles (Kevin Vandam three times, Luke Clausen, Boyd Duckett, Chris Lane, Skeet Reese, Howell, Ashley and Evers)