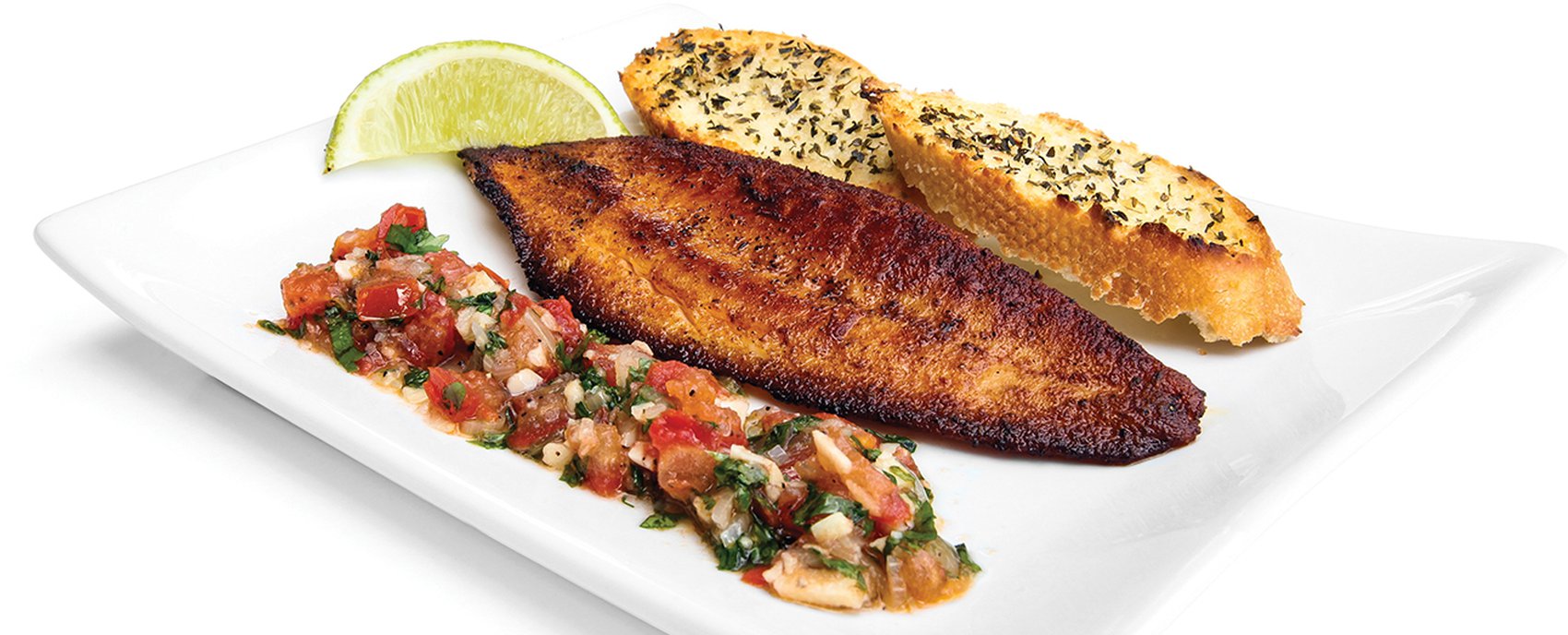 If you're from Florida's west coast, there's a good chance every year you sit patiently waiting for Florida pompano to migrate down in December and January. Usually found inshore, they prefer water temperatures of 70-to-80°F. And despite the fight they put up, pompano are easy to catch and even tastier to eat. Often called "the world's most edible fish," the Florida pompano's thick, melt-in-your- mouth skin and versatile, mild tasting meat have made it a favorite among foodies and families alike. See for yourself using the recipe below that combines this delicate fish with fresh Italian flavors to turn it into the perfect Florida "winter" meal.
Ingredients
(4) 4 oz. Pompano fillets
(2) Vine ripe tomatoes (cored, seeded and chopped)
1/4 c. Fresh garlic, chopped
1/4 c. Fresh shallots, chopped
1/2 c. Fresh cilantro, chopped
1/4 c. Olive oil
FSF Seafood Seasoning & Zesty Rub
Chopped Italian herbs
Limes
French baguette
Here's how...
Preheat sauté pan on med/high heat. Prepare top of fillets by brushing with olive oil before applying an even coat of seafood seasoning. A little more of this or that throughout the recipe isn't going to kill anyone. In a separate sauté pan on low heat (too hot and risk burning the garlic), add two tablespoons of olive oil and sweat chopped garlic and shallots until softened. Add chopped tomatoes, cilantro, a squeeze of fresh lime juice and salt/pepper to taste. Remove from heat and enjoy the aroma. Blacken fish, seasoned side down, until an even crust forms. Avoid flipping. Pompano fillets are thin and cook fast! The goal is tender and moist. When the desired doneness is achieved, remove from heat. Don't forget to brush baguettes with olive oil and Italian herbs before toasting. You know what to do from here.
Thanks to Florida Sport Fishing Magazine for this and more great recipes. Visit www.FSFMAG.com for more!