Mercury News
21 Jan 2020
Mercury Marine Official Supplier of Luna Rossa Prada Pirelli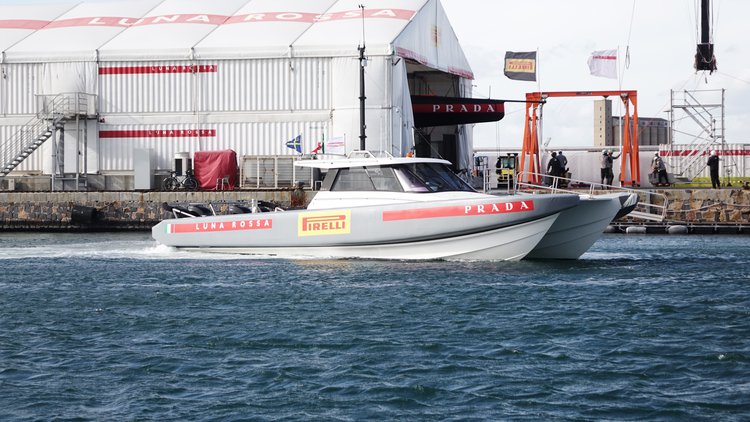 MILAN, January 20th, 2020 – Competition is a team effort. Mercury is proud to commit to its task providing top performances to chase boats in order to closely follow and technically support AC75 Luna Rossa, during training sessions and regattas. Cutting edge technology, low weight, high power density, best hole-shot acceleration, electro-hydraulic steering: nothing less than the best to accomplish the team mission.
Mercury Marine, world leader in production and distribution of marine engines and accessories, is proud to announce its partnership with the Luna Rossa Prada Pirelli Team as official supplier.
Mercury has been chosen as the perfect propulsion solution for the chase boats supporting AC75 Luna Rossa during the intense regattas' program, that it will start with the first round of the America's Cup World Series from 23 to 26 April 2020 in Cagliari. Then, after an event in England, the competition will continue from December 2020 in New Zealand, where, at the beginning of 2021, in Auckland, the Prada Cup will start, defining the winner, who will have the right to challenge the 36th America's Cup defender.
Performances, fair and intense competition, taste for challenge and team spirit are values which bring together Mercury and Luna Rossa: on this basis and on this agreement, Mercury will enable the boats the possibility to closely follow the AC75 Luna Rossa at all speeds and above 50Kn.
The engines supplied will be mainly based to the recently introduced 4.6L V-8 engine, in the two power rates of 250Hp and 300Hp and in the supercharged version with 450R Hp. This architecture grants compact dimensions, low weight, hole-shot accelerations, and, together with electro-hydraulic steering system, Mercury propellers and Active Trim delivers unmatched performances control and riding comfort. Vessel View Mobile, standard across this range, provides additional information at the fingertips to the crew.
Here below the chase boats list with engines specs:
Salthouse Catamaran: 4 x engines V-8 Mercury 450R
RIB Lancer Rib: 3 x engines V-8 Mercury Verado 300
RIB Fast2000: 2 x engines V-8 Mercury Verado 250
RIB Stinger: 2 x engines Mercury F115
A fifth chase boat in support will be supplied by Cantiere del Pardo shipyard: the Pardo 38 model, a perfect synthesis of elegance, comfort and performance. This boat will be equipped with triple V-8 Mercury Verado 300 hp.
Salthouse Catamaran, playing a key technical & tactical role during regattas, will be powered by 4 Mercury 450R engines, based on their extreme lightweight, power density and exceptional torque throughout the entire range of use, they will deliver a top speed of 60 knots, ideal for dealing the extraordinary performances of the AC75 Luna Rossa.
Max Sirena, Skipper and Team Director of Luna Rossa Prada Pirelli commented: "We are honored to announce the new partnership with Mercury Marine, with whom we share innovation, reliability and the aim for top performances. The engines supplied will allow technical boats to reach very high speeds and better support the AC75 Luna Rossa during training and regattas".
A press event will be held at the Luna Rossa Headquarters in Cagliari at the beginning of March.