Ultra Light
Comfortable and versatile
Easy to set up and get out on the water.
Fabric Haku PVC
Color White
Overall length 250 cm
Load capacity 480 kg
Maximum horsepower 6
Floor type Soft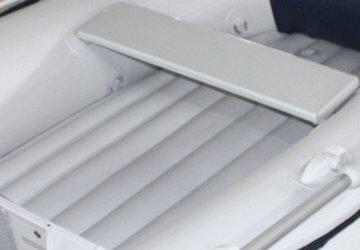 Air Mattress (Y-Beam)
The Ultra Light range introduces a new inflatable Y-beam floor. This new floor is a fixed special air floor with integrated keel. This special air hull design has a deep V-shape which provides better buoyancy, stability and performance.
Specifications
Ultra Light
| | |
| --- | --- |
| Fabric | |
| Color | |
| CE Design Category | |
| Overall length | |
| Overall beam | |
| Inside length | |
| Inside beam | |
| Tube diameter | |
| Load capacity | |
| Maximum engine weight | |
| Maximum horsepower | |
| Minimum horsepower | |
| Passenger capacity (PVC) | |
| Number of air chambers | |
| Weight (PVC) | |
| Bagged dimensions | |
| Inflatable keel | |
| Inflatable floor | |
| Floor material | |
| Floor type | |

Print Compare With Other Products

| | |
| --- | --- |
| Fabric | |
| Color | |
| CE Design Category | |
| Overall length | |
| Overall beam | |
| Inside length | |
| Inside beam | |
| Tube diameter | |
| Load capacity | |
| Maximum engine weight | |
| Maximum horsepower | |
| Minimum horsepower | |
| Passenger capacity (PVC) | |
| Number of air chambers | |
| Weight (PVC) | |
| Bagged dimensions | |
| Inflatable keel | |
| Inflatable floor | |
| Floor material | |
| Floor type | |

Print Compare With Other Products