Drives
Bravo Four S Forward-Facing Drive
Exhilarating Performance for Wakesurfing and Other Tow Sports
Forward-facing props grip the water for enhanced maneuverability at typical slow surfing speeds.
For MerCruiser® 4.5L V6, 6.2L V8 and 8.2L V8 gas sterndrives from 250hp to 430hp. Versatile choice for tow sports, cruising and family activities.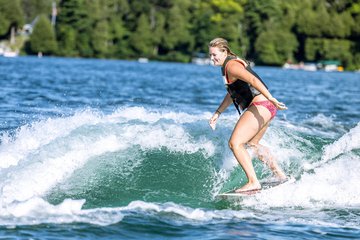 Wakesurfing Ability, Sterndrive Versatility
You can do more with the Bravo Four S™ drive. It's an ideal choice for wakesurfing that also lets you enjoy the inherent versatility made possible by a sterndrive boat's deeper hull and steerable, trimmable drive.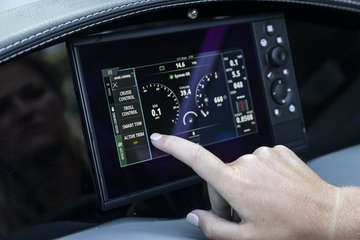 Smart Tow Controls
With the Smart Tow® system, you can select the ideal wake and launch intensity for any tow sport user's ability level on a compatible VesselView® display, and it will automatically adjust the surf tabs and speed to provide what you need. Because the Smart Tow system is fully integrated with your boat and propulsion system, adjustments are as easy as pressing a button. Just tell Smart Tow what you want, and it delivers.
5 New Premium Props
Mercury engineered a suite of five sets of new premium propellers specifically for the Bravo Four S forward-facing drive. They're designed to run in a dual, contra-rotating configuration, with a four-blade prop in front of a three-blade prop, which minimizes cavitation to help reduce noise, vibration and harshness (NVH). Like every Mercury prop, the new models are durable for long-lasting performance. Choose from 19 to 25.5 pitch.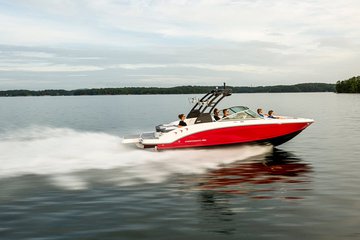 Digital Throttle & Shift
The Digital Throttle & Shift® (DTS) system comes standard with the Bravo Four S forward-facing drive, ensuring smooth, precise shifting and lightning-fast throttle response with zero hesitation. Whether docking at the marina, cruising across the lake or laying out the perfect wake, you'll appreciate the DTS difference.