Back to Dockline
12 Jul 2022
New FourStroke, SeaPro and ProKicker models now include SmartCraft digital technologies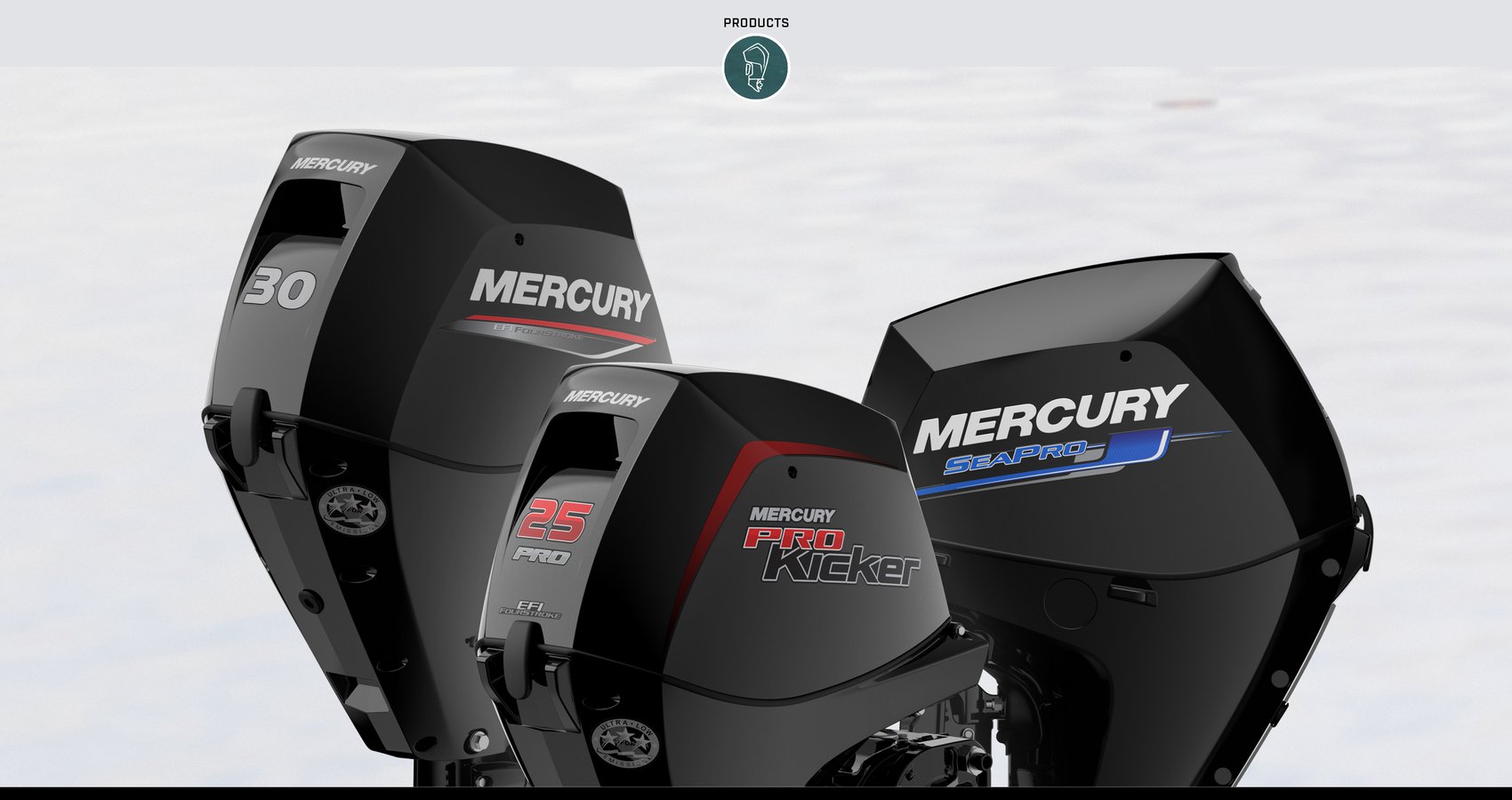 One of the great joys of boating is that the size of your on-water adventures does not depend directly on the size of your boat or engine. Even in a small boat, there are incredible opportunities to explore and enjoy the freedom that the water brings.
This is among the reasons why Mercury Marine continues to refine and develop new engines and technologies that allow people to experience a better time boating, no matter the type of boat they own. The latest example is a new series of 25 and 30hp four-stroke outboard engines.
Available from Mercury Authorized Dealers beginning in July, the new lineup includes 25 and 30hp FourStroke outboards and a 25hp SeaPro™ outboard for commercial applications. Mercury also engineered the first-ever 25hp ProKicker™ outboard, bringing precision trolling control to large freshwater and saltwater boats. For the first time, electric-start 25 and 30hp models are now compatible with Mercury SmartCraft® digital technologies, offering boaters access to a wide range of intelligent gauges, displays and other connected technologies.
"The most important strategy we employ at Mercury is to listen to boaters to learn how we can help improve their experiences on the water," said Jim Hergert, Mercury senior outboard category manager. "Adding SmartCraft compatibility to the new 25 and 30hp outboards offers a big step forward for many boaters who prefer small boats.
"In addition to bringing the engines cosmetically in line with modern Mercury outboard styling, updates were made to the powerhead, gearcase and cowling that make the new engines faster, lighter and quieter than previous generations. Electronic fuel injection (EFI) – including battery-free EFI technology on manual-start models – delivers easy starts and enhanced fuel efficiency, while a number of refinements were incorporated that simplify maintenance for DIY boaters."
Small in size and packed with potential, these new outboards were built for big adventures
Engines built for Your Needs, Whatever They May Be
With a capable 3-cylinder powerhead, the new 25 and 30hp FourStroke outboards have broad applications for 11- to 16-foot-long rigid inflatables, johnboats, fishing boats and more. The addition of SmartCraft technologies enables features that have never been available for many boats in this class.
"These boats have changed a lot over the years," said Hergert. "Even if it's a tiller-style boat, many now have mini-consoles at the side. That's a place where people can mount smaller SmartCraft gauges. In the past, you didn't really have a good location to mount a gauge, so people didn't really do it. Now, if you add the SC1000 or the MercMonitor, it's going to give you tons of information.
"Battery voltage is pretty handy. If you're not getting the speed or acceleration you think you want, you can now see rpm, and that really helps you dial in the right prop. Troll Control is probably the coolest feature that SmartCraft brings to the table for this engine class. There's no need to buy a third-party mechanism to control trolling speed. Anglers can just do it from their SmartCraft gauge. If you don't have a place to mount a gauge, VesselView Mobile® is another great option that SmartCraft compatibility makes possible."
Providing options to boaters is a hallmark of the Mercury outboard portfolio. For recreational boaters, the 25 and 30hp FourStroke engines come with a choice of remote or tiller controls; manual (25hp only), gas assist (30hp only) or power tilt and trim; electric or manual start; and four new Black Max® propellers designed specifically to pair with this engine family. A jet model will be available soon.
For those serious about fishing, who might operate multiple depth finders on their boats, a 17-amp alternator generates powerful battery-charging output. It can help ensure reliable starts after a long day and help keep onboard electronics humming clear through the evening bite.
The FourStroke models also bear many of the same heavy-duty components and validation that were employed to create the 25hp SeaPro commercial-duty engine. This includes features like an easy-access water-separating fuel filter, which is helpful when operating on the low-quality fuels found in many remote regions, as well as some convenience features like a no-drip oil-change design that makes maintenance less of a chore. The SeaPro model is also calibrated to burn these low-quality fuels reliably and has applications for aquaculture, tourism and outfitting in remote areas. 
"These engines are also incredibly light," added Hergert. "They start at just 132 pounds. While heavier than a dedicated portable outboard, you could easily transport one of these engines to your cabin up north or store it in a heated garage in the offseason and haul it back to the lake come spring. More importantly, the low weight of the engine offers a real competitive advantage on small boats."
An Advanced Tiller for Optimal Control
The new outboards are available with an advanced tiller handle adapted from the popular tiller that previously rolled out with updated 15 and 20hp outboard models.
Leveraging consumer feedback, Mercury engineered the new tiller to be adjustable for left- or right-handed steering. Boaters can reverse the grip – which is the throttle control – and laterally adjust the tiller to provide a full range of steering authority to port or starboard. A vertical stop keeps the handle at the right height for comfortable driving, even while standing.  
"We really wanted it to be comfortable to steer and simple to operate," said Hergert. "Whether you're back-trolling for walleyes, running a long distance or working hard in a commercial setting where you're maneuvering around in tight spaces all day, you can quickly adjust the tiller based on your needs. We even added helpful little features, like over-molded grips, an easy-reach shifter and oversized friction adjusters. There's an incredible number of hours of refinement that went into getting all these features just right."
A More Powerful ProKicker
To a non-angler, trolling might seem like a simple fishing technique. Just kick it in gear and go, right?
No such fishing luck. Effective trolling is all in the art of precise boat control, and the Mercury ProKicker outboard family is legendary for offering anglers an effective way to accurately and repeatedly dial in precise trolling speeds.
With the addition of a 25hp ProKicker to the family, Mercury is giving even more anglers the tools to effectively troll, drift and mooch for open-water species. It was designed to pair with boats that are 26 to 39 feet long – the kind commonly found throughout the Great Lakes and Pacific Northwest, including Alaska.
"We dialed in everything down to the throttle resolution," said Hergert. "That allows anglers to adjust throttle very, very slowly at low rpm to dial in trolling speed. Once you hit your speed, you can tighten up the throttle friction even more to hold it there. Power tilt is also standard, so it's easier to stow and deploy the motor quickly, which is all about time management. The faster you can get your kicker motor up and be running on main power, the faster you can get to the next spot."
The 3-cylinder powerhead is carefully balanced to minimize vibration and generates ample torque to easily move large boats. Anglers can choose tiller or remote controls and configure the engine on the port or starboard side.
"The prop is another important feature," added Hergert. "It's a four-blade, high-thrust prop that delivers a lot of control at low speeds. With this ProKicker, we put all the pieces together for you to make a great kicker for trolling."
The Total Package for Fun
With boater-friendly features and advanced Mercury technology, the latest additions to the Mercury outboard family bring new opportunities to explore the water – for fishing, work or play. To learn more about the new 25 and 30hp outboard family and find the right model for your needs, contact a Mercury Authorized Dealer today.