Mercury News
17 Jan 2019
New Mercury 5hp Propane FourStroke is powerful, convenient and reliable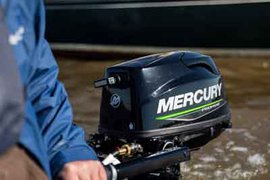 Fond du Lac, Wis. – The new Mercury 5hp Propane/LPG FourStroke delivers no-hassle portability, reliability and convenience running on alternative clean-burning fuel – whether it's powering aluminum boats, inflatables or sailboats.
With a large 123cc displacement, the new 5hp FourStroke Propane outboard offers best-in-class power by delivering a true 5hp.
Starting at just 27.2 kilograms the 5hp Propane FourStroke is light and easy to carry or transport. And you can run it on the same conventional propane you're probably using in your backyard grill. It's also friendly to the environment with 30% lower exhaust emissions compared to gasoline.
With a safety-first approach, the outboard comes standard with a propane auto shut-off valve on the engine and in the fuel hose connector. 
Starting is made easy with the manual choke, which enriches the fuel-to-air ratio for fast and reliable starts, particularly when the engine is cold. Auto decompression reduces the pull force when using the starter rope.
The 5hp Propane FourStroke sports an easy-to-reach shift lever on the engine and has six tilt positions with a shallow-water drive to set the outboard where you need it.
Sail Power
Sail Power models are designed for boaters who use a small outboard to pilot their sailboat. The Sail Power model is offered in 20-inch (508 mm) and 25-inch (635 mm) shaft lengths, and additional features include:
12 Volt, 4 Amp / 50-Watt alternator charging system with cable allows sailors to charge a battery to run electronics or lights
Reverse-thrust exhaust relief and high-thrust propeller improves slow-speed handling and control