Mercury® Diesel
TDI 3.0L (150-260hp)
Compact and Efficient
High-power density in a compact lightweight package.
Power mhp / kW 260 / 191
Bore and stroke 3.27 x 3.58" / 83 X 91 mm
Maximum RPM (WOT) 4000
Engine type V6
Displacement (L) 3.0
Dry Weight (engine only)
Dimensions (L x W x H) 35 x 32 x 34" / 927 x 813 x 853 mm
Peak Torque
Air Handling
Fuel System
Rotation
Compression Ratio
Fuel Pre-filtration requirement
Fuel lift pump
High pressure fuel pump
Valves per Cylinder
Pistons
Fuel injectors
Glow Plugs
Air inlet (Starboard Rear)
Turbocharger
Engine and turbocharger cooling
Coolers
Seawater pump inlet size
Oil sump volume
Dipstick range
Oil maintenance interval
Coolant Volume
Flywheel size
Electrical system
MerCathode (Sterndrive only)
Engine Stop
Engine Control Unit (ECU)
Sensors
Throttle and shift
Helm and gauge compatibility
Mercury Joystick Piloting
Sterndrive: Mercury Bravo One X
Sterndrive: Mercury Bravo One X SeaCore
Sterndrive: Mercury Bravo One XR
Sterndrive: Mercury Bravo Two X
Sterndrive: Mercury Bravo Two X SeaCore
Sterndrive: Mercury Bravo Two XR
Sterndrive: Mercury Bravo Three X
Sterndrive: Mercury Bravo Three X SeaCore
Sterndrive: Mercury Bravo Three XR
Sterndrive: Mercury Bravo Three XR SeaCore
Inboard: ZF 63A
Inboard: ZF 63
Inboard: ZF 68IV
Inboard: ZF 45C
Transmission and Ratio
Cylinder Configuration
Dry weight *Lightest model available
Direction of Rotation
Commercial Rating
Emission Certification
Rated rpm
Max Torque in N-m (ft-lb) at rpm
Engine Cooling
Turbo Cooling
Flywheel Housing
Bobtail Length (mm)
Bobtail Width (mm)
Bobtail Height (mm)
Inboard: ZF 85IV
Inboard: ZF 220
Inboard: ZF 220A
Inboard: ZF 280IV
Inboard: ZF 280-1
Inboard: ZF 280-1A
Inboard: ZF 45A
Mercury Zeus Pod
Mercury Zeus Pod
Sterndrive - Primary
Sterndrive - Optional
Test alternator amp / watt
Weight (engine only) 675 lbs / 306 kg
Weight (incl. transmission) 771 lbs / 350 kg
Weight - Alpha
Weight - Bravo One 906 lbs / 411 kg
Weight - Bravo Two 922 lbs / 418 kg
Weight - Bravo Three 933 lbs / 423 kg
Cooling system Closed cooling
Fuel consumption 14.2 gal/hr / 53.7 l/hr @ 4000 rpm
Compatible drives Bravo One, Bravo Three, Bravo Two
Emission BSO 2 RCD 2 IMO 2 EPA Tier 3
Compatible with SmartCraft digital technology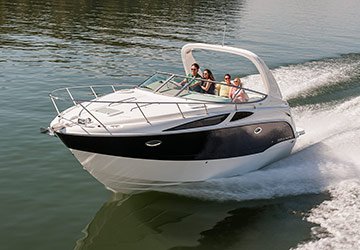 Power & Performance.
The low weight of these diesels results in best-in-class power-to-weight ratio. Combined with great low-end torque, the end result is crowd-pleasing hole shot, great acceleration, low planing times and ultra-smooth performance.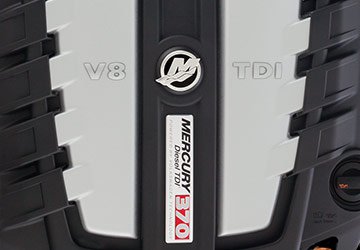 Intuitive Design.
Mercury® SmartCraft® compatibility is built into these engines, delivering key information about vital engine functions on an easy-to-read LED display. SmartCraft Digital Throttle & Shift (DTS) offers smooth shifting, immediate throttle response and high-tech digital controls.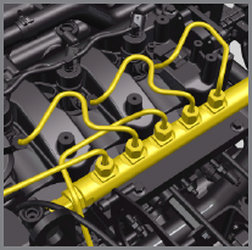 Clean, Quiet, Efficient.
Direct Injection (DI) technology uses injectors to spray diesel fuel atomized at 26,000 psi directly into the main combustion chamber of each cylinder. This process optimises fuel efficiency and minimises emissions, along with engine Noise, Vibration and Harshness (NVH) for an enjoyable boating experience.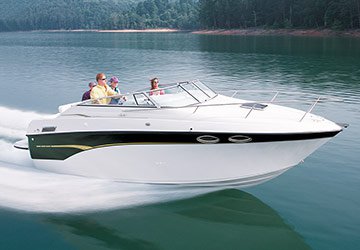 Lightweight.
The TDI engine block is fabricated from Vermicular Graphite Casting (VGC), which has twice the strength of grey iron and most of its attributes, but is 5% to 10% lighter. The end result is low weight, high strength, and maximum heat transfer for optimum cooling.
TDI is a registered trademark of Volkswagen Aktiengesellschaft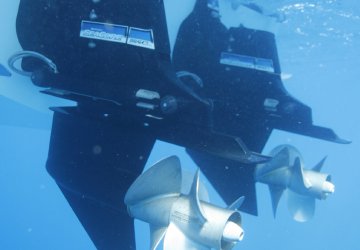 Corrosion-Resistance.
Mercury diesels feature state-of-the-art anti-corrosion, including a thermostatically controlled closed water-cooled system. Water-cooled engine oil, gear oil and steering fluid decrease engine-room temperatures, extending engine life. The SeaCore® system is available for the ultimate in saltwater protection.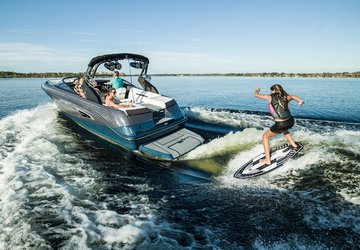 Joystick Piloting for Inboards.
The only joystick piloting system that's compatible with gasoline or diesel inboard and tow sport engines.
The only joystick piloting system for single-inboard boats.
Many features available to make your tow sport adventures even more amazing - click here to find out more!
Specifications
Mercury® Diesel: TDI 3.0L (150-260hp)
Power mhp / kW
Bore and stroke

3.27 x 3.58" / 83 X 91 mm

Maximum RPM (WOT)
Engine type
Displacement (L)
Dry Weight (engine only)
Dimensions (L x W x H)

35 x 32 x 34" / 927 x 813 x 853 mm

Peak Torque
Air Handling
Fuel System
Rotation
Compression Ratio
Fuel Pre-filtration requirement
Fuel lift pump
High pressure fuel pump
Valves per Cylinder
Pistons
Fuel injectors
Glow Plugs
Air inlet (Starboard Rear)
Turbocharger
Engine and turbocharger cooling
Coolers
Seawater pump inlet size
Oil sump volume
Dipstick range
Oil maintenance interval
Coolant Volume
Flywheel size
Electrical system
MerCathode (Sterndrive only)
Engine Stop
Engine Control Unit (ECU)
Sensors
Throttle and shift
Helm and gauge compatibility
Mercury Joystick Piloting
Sterndrive: Mercury Bravo One X
Sterndrive: Mercury Bravo One X SeaCore
Sterndrive: Mercury Bravo One XR
Sterndrive: Mercury Bravo Two X
Sterndrive: Mercury Bravo Two X SeaCore
Sterndrive: Mercury Bravo Two XR
Sterndrive: Mercury Bravo Three X
Sterndrive: Mercury Bravo Three X SeaCore
Sterndrive: Mercury Bravo Three XR
Sterndrive: Mercury Bravo Three XR SeaCore
Inboard: ZF 63A
Inboard: ZF 63
Inboard: ZF 68IV
Inboard: ZF 45C
Transmission and Ratio
Cylinder Configuration
Dry weight *Lightest model available
Direction of Rotation
Commercial Rating
Emission Certification
Rated rpm
Max Torque in N-m (ft-lb) at rpm
Engine Cooling
Turbo Cooling
Flywheel Housing
Bobtail Length (mm)
Bobtail Width (mm)
Bobtail Height (mm)
Inboard: ZF 85IV
Inboard: ZF 220
Inboard: ZF 220A
Inboard: ZF 280IV
Inboard: ZF 280-1
Inboard: ZF 280-1A
Inboard: ZF 45A
Mercury Zeus Pod
Mercury Zeus Pod
Sterndrive - Primary
Sterndrive - Optional
Test alternator amp / watt
Weight (engine only)
Weight (incl. transmission)
Weight - Alpha
Weight - Bravo One
Weight - Bravo Two
Weight - Bravo Three
Cooling system
Fuel consumption

14.2 gal/hr / 53.7 l/hr @ 4000 rpm

Compatible drives

Bravo One
Bravo Three
Bravo Two

Emission

BSO 2 RCD 2 IMO 2 EPA Tier 3

Compatible with SmartCraft digital technology

Print Compare With Other Products

Power mhp / kW
Bore and stroke

3.27 x 3.58" / 83 X 91 mm

Maximum RPM (WOT)
Engine type
Displacement (L)
Dimensions (L x W x H)

35 x 32 x 34" / 927 x 813 x 853 mm

Weight (engine only)
Weight (incl. transmission)
Weight - Bravo One
Weight - Bravo Two
Weight - Bravo Three
Cooling system
Fuel consumption

12.6 gal/hr / 47.7 l/hr @ 4000 rpm

Compatible drives

Bravo One
Bravo Three
Bravo Two

Emission

BSO 2 RCD 2 IMO 2 EPA Tier 3

Print Compare With Other Products

Power mhp / kW
Bore and stroke

3.27 x 3.58" / 83 X 91 mm

Maximum RPM (WOT)
Engine type
Displacement (L)
Dimensions (L x W x H)

35 x 32 x 34" / 927 x 813 x 853 mm

Weight (engine only)
Weight (incl. transmission)
Weight - Bravo One
Weight - Bravo Two
Weight - Bravo Three
Cooling system
Compatible drives

Bravo One
Bravo Three
Bravo Two

Emission

BSO 2 RCD 2 IMO 2 EPA Tier 3

Print Compare With Other Products