Mercury® Diesel
2.0L (115-170hp)
Compact and Powerful
A proven performer in the diesel marine industry.
Power mhp / kW 170 / 124
Bore and stroke 3.27 x 3.62" / 83 x 92 mm
Maximum RPM (WOT) 4000
Engine type Inline 4
Displacement (L) 2.0
Dry Weight (engine only)
Dimensions (L x W x H) 32 x 30 x 29" / 802 x 710 x 727 mm
Peak Torque
Air Handling
Fuel System
Rotation
Compression Ratio
Fuel Pre-filtration requirement
Fuel lift pump
High pressure fuel pump
Valves per Cylinder
Pistons
Fuel injectors
Glow Plugs
Air inlet (Starboard Rear)
Turbocharger
Engine and turbocharger cooling
Coolers
Seawater pump inlet size
Oil sump volume
Dipstick range
Oil maintenance interval
Coolant Volume
Flywheel size
Electrical system
MerCathode (Sterndrive only)
Engine Stop
Engine Control Unit (ECU)
Sensors
Throttle and shift
Helm and gauge compatibility
Mercury Joystick Piloting
Sterndrive: Mercury Bravo One X
Sterndrive: Mercury Bravo One X SeaCore
Sterndrive: Mercury Bravo One XR
Sterndrive: Mercury Bravo Two X
Sterndrive: Mercury Bravo Two X SeaCore
Sterndrive: Mercury Bravo Two XR
Sterndrive: Mercury Bravo Three X
Sterndrive: Mercury Bravo Three X SeaCore
Sterndrive: Mercury Bravo Three XR
Sterndrive: Mercury Bravo Three XR SeaCore
Inboard: ZF 63A
Inboard: ZF 63
Inboard: ZF 68IV
Inboard: ZF 45C
Transmission and Ratio
Cylinder Configuration
Dry weight *Lightest model available
Direction of Rotation
Commercial Rating
Emission Certification
Rated rpm
Max Torque in N-m (ft-lb) at rpm
Engine Cooling
Turbo Cooling
Flywheel Housing
Bobtail Length (mm)
Bobtail Width (mm)
Bobtail Height (mm)
Inboard: ZF 85IV
Inboard: ZF 220
Inboard: ZF 220A
Inboard: ZF 280IV
Inboard: ZF 280-1
Inboard: ZF 280-1A
Inboard: ZF 45A
Mercury Zeus Pod
Mercury Zeus Pod
Sterndrive - Primary
Sterndrive - Optional
Test alternator amp / watt
Weight (engine only) 551 lbs / 250 kg
Weight (incl. transmission) 631 lbs / 286 kg
Weight - Alpha 710 lbs / 322 kg
Weight - Bravo One 783 lbs / 355 kg
Weight - Bravo Two 798 lbs / 362 kg
Weight - Bravo Three 809 lbs / 367 kg
Cooling system Closed cooling
Fuel consumption 9.9 gal/hr / 37.36 l/hr @ 4000 rpm
Compatible drives Alpha, Bravo One, Bravo Three, Bravo Two
Emission BSO 2 RCD 2 IMO 2 EPA Tier 3, EPA Tier 2 RCD 2 IMO 2
Compatible with SmartCraft digital technology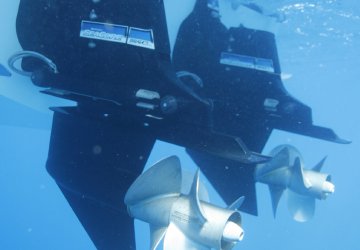 Corrosion-Resistance.
Mercury diesels feature state-of-the-art anti-corrosion, including a thermostatically controlled closed water-cooled system. Water-cooled engine oil, gear oil and steering fluid decrease engine-room temperatures, extending engine life. The SeaCore® system is available for the ultimate in saltwater protection.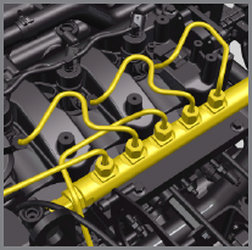 Quiet Ride.
The high-pressure common-rail fuel-injection system not only ensures fuel economy, it also minimises Noise, Vibration and Harshness (NVH), along with smoke and odor – the undesirable factors many boaters associate with yesterday's diesels.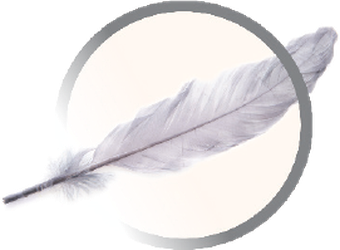 Repower Reasons.
The lightweight, compact design of these diesel engines makes them ideal drop-in replacement power packages for many older, fuel-guzzling petrol engines. Mercury's full range of drives offers outstanding versatility to owners of sterndrive-powered boats.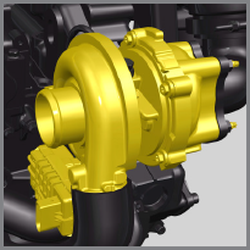 Peak Performance.
Impressive acceleration and quick throttle response are delivered by the proven common-rail fuel system, which incorporates a turbocharger and seawater after-cooler. These engines combine smooth performance with key diesel advantages, such as high torque and optimum fuel economy.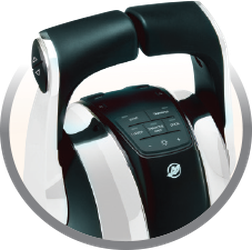 Intuitive Design.
A sophisticated Control Module and Mercury SmartCraft compatibility provide complete control over key engine functions. SmartCraft Digital Throttle & Shift (DTS) offers smooth shifting, immediate throttle response and high-tech digital controls.
Specifications
Mercury® Diesel: 2.0L (115-170hp)