Mercury® Diesel
TDI 4.2L (335-370hp)
Smooth and Powerful
This Mercury Diesel engine sets a new benchmark for low noise and vibration.
Power mhp / kW 370 / 272
Maximum RPM (WOT) 4200
Engine type V8
Displacement (L) 4.2
Weight (engine only) 836 lbs / 379 kg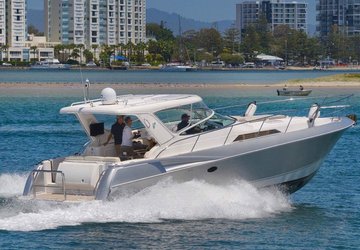 V8 hero Russell Ingall enjoying Mercury Diesel power and Joystick control.
With the motor racing season slowing down for the holiday period, Aussie racing legend Russell Ingall is looking forward to spending some quality time in his newly renovated Riviera M400. 
Powered by a pair of Mercury Diesel TDI 370hp engines with Bravo 3 drives, and controlled via Mercury's Joystick Piloting system, the boat has been a special project for Russell who's particularly proud of the outcome.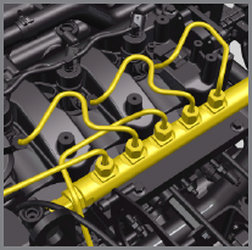 Clean, Quiet, Efficient.
Direct Injection (DI) technology uses injectors to spray diesel fuel atomized at 26,000 psi directly into the main combustion chamber of each cylinder. This process optimises fuel efficiency and minimises emissions, along with engine Noise, Vibration and Harshness (NVH) for an enjoyable boating experience.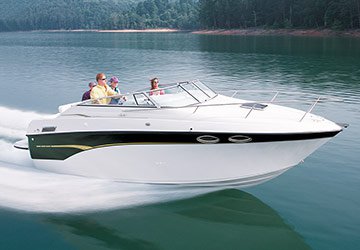 Lightweight.
The TDI engine block is fabricated from Vermicular Graphite Casting (VGC), which has twice the strength of grey iron and most of its attributes, but is 5% to 10% lighter. The end result is low weight, high strength, and maximum heat transfer for optimum cooling.
TDI is a registered trademark of Volkswagen Aktiengesellschaft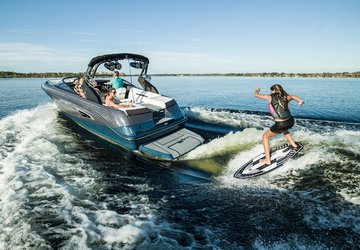 Joystick Piloting for Inboards.
The only joystick piloting system that's compatible with gasoline or diesel inboard and tow sport engines.
The only joystick piloting system for single-inboard boats.
Many features available to make your tow sport adventures even more amazing - click here to find out more!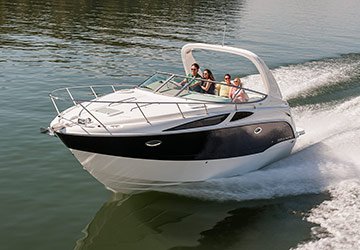 Power & Performance.
The low weight of these diesels results in best-in-class power-to-weight ratio. Combined with great low-end torque, the end result is crowd-pleasing hole shot, great acceleration, low planing times and ultra-smooth performance.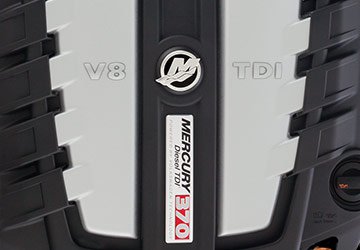 Intuitive Design.
Mercury® SmartCraft® compatibility is built into these engines, delivering key information about vital engine functions on an easy-to-read LED display. SmartCraft Digital Throttle & Shift (DTS) offers smooth shifting, immediate throttle response and high-tech digital controls.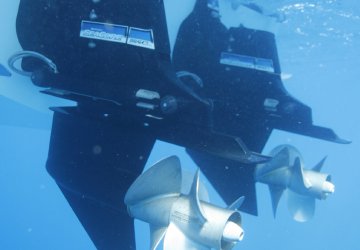 Corrosion-Resistance.
Mercury diesels feature state-of-the-art anti-corrosion, including a thermostatically controlled closed water-cooled system. Water-cooled engine oil, gear oil and steering fluid decrease engine-room temperatures, extending engine life. The SeaCore® system is available for the ultimate in saltwater protection.
Specifications
Mercury® Diesel: TDI 4.2L (335-370hp)
Power mhp / kW
Bore and stroke

3.27 x 3.74" / 83 x 95 mm

Maximum RPM (WOT)
Engine type
Displacement (L)
Dimensions (L x W x H)

47 x 33 x 33" / 1206 x 835 x 836 mm

Weight (engine only)
Weight (incl. transmission)
Weight - Bravo One
Weight - Bravo Two
Weight - Bravo Three
Cooling system
Fuel consumption

20.5 gph / 77.6 lph @ 4200

Compatible drives

Bravo One
Bravo Three
Bravo Two

Emission

BSO 2 RCD 2 IMO 2 EPA Tier 3

Print Compare With Other Products

Power mhp / kW
Bore and stroke

3.27 x 3.74" / 83 x 95 mm

Maximum RPM (WOT)
Engine type
Displacement (L)
Dimensions (L x W x H)

47 x 33 x 33" / 1206 x 835 x 836 mm

Weight (engine only)
Weight (incl. transmission)
Weight - Bravo One
Weight - Bravo Two
Weight - Bravo Three
Cooling system
Fuel consumption

18.5 gph / 69.9 lph @ 4200 rpm

Compatible drives

Bravo One
Bravo Three
Bravo Two

Emission

BSO 2 RCD 2 IMO 2 EPA Tier 3

Print Compare With Other Products