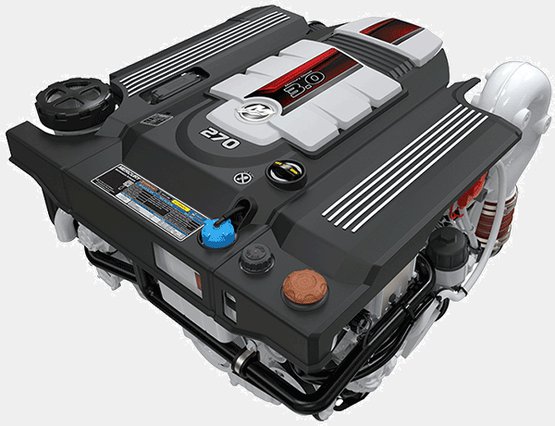 Everything and less.
Advanced turbocharger technology. Inboard and sterndrive power that can't be beat. And fuel-injection systems that virtually eliminate the noise and harshness you expect from a diesel engine. More than an engine you can count on. A diesel experience like no other.
In it for the long haul.
Mercury diesel-powered engines give you unparalleled durability. Thermostatically optimised closed-coolant systems. Advanced control systems. And ultimate corrosion resistance. These engines are built to go the distance.
Heavy on performance, light where it counts.
Mercury diesel leads the industry in power-to-weight ratios, delivering heavy-duty propulsion in a lightweight package. For you that means quicker acceleration, faster planing, and improved maneuverability. Higher efficiency, too. Another bonus.
Run fast, run clean.
Advanced intake systems keep Mercury diesels running easy and clean. None of the harshness or fumes from traditional diesels. And an increase of up to 50 percent in fuel efficiency compared to gas engines of the same horsepower. More reasons to go Mercury diesel.