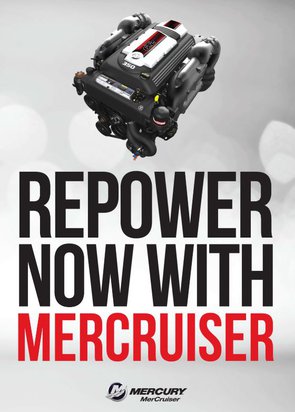 Repower Now With MerCruiser
Free Rigging kit up to the value of $1,575 when you repower with a new 4.5L, 6.2L or 8.2L Engine and Sterndrive package. 
Why Repower with MerCruiser?
Proven power from the market leading sterndrive brand
Unbeatable combination of performance and fuel efficiency
4.5L, 6.2L and 8.2L models are purpose built by Mercury for the marine environment
Hurry this offer is only available for a limited time.
Offer available from participating dealers from 1st July 2019 to 27th September 2019.
*Bonus Free rigging kit up to the value of RRP $1,575 based on mechanical engine SC1000 SmartCraft rigging kit, single panel control, 2 x control cables and 1x trim harness.
If purchasing a DTS engine, then the discount amount of up to RRP $1,575 will be applied to selected rigging.
Eligible only on repower engine sales.
Discount only applies to full engine, drive & transom package sales (excludes bobtail engine sales).
Only available on new MerCruiser 4.5L, 6.2L and 8.2L engines.
Rigging must be ordered to be eligible for discount, if customer spend on rigging is less than $1,575 then you will only receive discount of amount spent.
Program excludes installation costs. Not to be used with any other offer.