Mercury News
29 Mar 2019
TR Marine World retains crown as Australian Dealer of the Year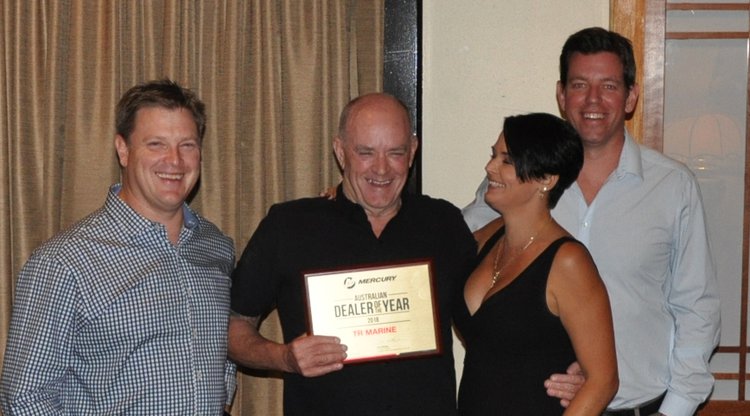 Mercury Marine is proud to announce that TR Marine World has been named Mercury Marine's Australian Dealer of the Year for the second year in a row.
Located in the Sydney suburb of McGraths Hill, TR Marine World has beaten the best dealerships from across the country to win the 2018 crown.
"The fact that Ian Tricker and his team have gone back to back says it all really," said Will Sangster, General Manager of Mercury (Australia, New Zealand, Pacific). "Winning once is hard because it involves so many facets of the business. Winning it twice in a row is quite special. I sincerely congratulate everyone involved."
Mercury's dealership awards are based on a range of objective criteria, including year on year growth, the way dealers support Mercury products and programs, their promotions and customer events, customer service, and the general presentation of the dealership.
For the first time, the 2018 awards included recognition for the Regional Dealer of the Year. Regional dealers provide outstanding support for all Mercury products, so their contribution deserves to be recognised through a specific award.
The inaugural Regional Dealer of the Year was taken out by Sugar City Marine in Mackay, Queensland.
The New Zealand Dealer of 2018 was Gulfland Marine on the Whangaparaoa Peninsula.
The other 2018 winners were;
NSW Dealer of the Year                                                 –TR Marine
WA Dealer of the Year                                                    – Aquasports Marine
Vic / Tas Dealer of the Year                                          – JV Marine
South Aust. Dealer of the Year                                    – Christies Beach Marine
Qld / NT Dealer of the Year                                          – Brisbane Marine
MerCruiser Dealer of the Year                                    – Shannon OB Service
MerCruiser Sterndrive OEM of the Year                  – Rayglass
MerCruiser Towsport OEM of the Year                    – Sterling Marine
Regional Dealer of the Year                                        – Sugar City Marine
Parts and Accessories Dealer of the Year                – Aquasports Marine
MotorGuide Dealer of the Year                                  – Motor Marine
Sth Pacific Mercury Distributor of the Year            – Sin Tung Hing Marine
Sth Pacific Mariner Distributor of the Year             – ETS Emile Vongue & FILS SA
Mercury Finance National Dealer of the Year       – TR Marine