Mercury News
20 Aug 2020
Mercury's Jordan Grech named BIAV Apprentice of the Year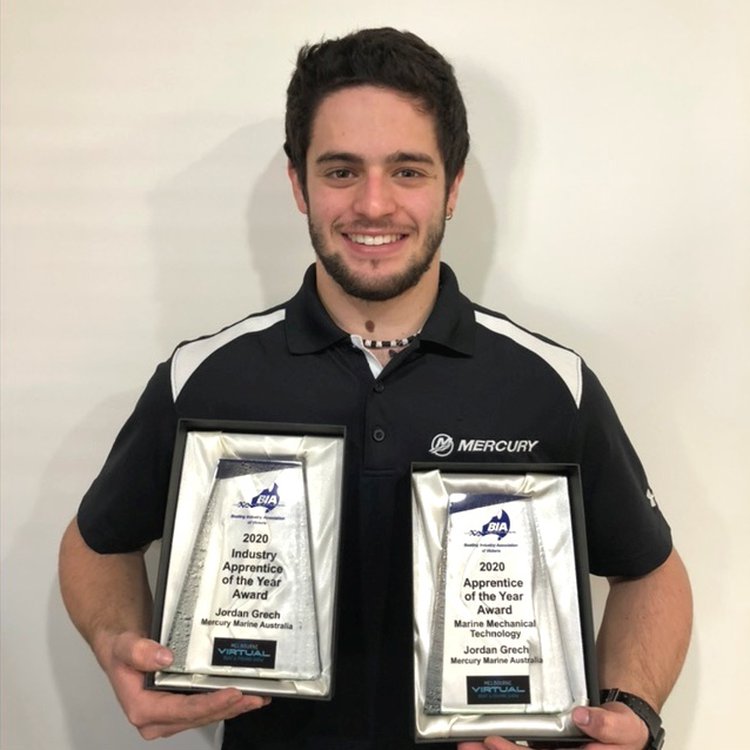 Jordan Grech, who works at Mercury's Dandenong South facility, is the new Boating Industry Association of Victoria (BIAV) Apprentice of the Year.
The prestigious annual award is open to any apprentice working in the state's marine industry, and the win came as a complete shock to Jordan, who will soon be a fully qualified marine mechanic.
"Honestly, I didn't know anything other than I was nominated. I watched the announcement just to see what it was all about," Jordan said.
"When I won, I was in a state of shock. I'd be lying if I said I didn't have a case of the light shakes. Total surprise. I'm extremely grateful for the award and for everyone who has helped me, particularly Mercury and Kangan TAFE."
A third-year apprentice, Jordan's dedication and aptitude is reflected in the fact he's already completed his TAFE coursework at Kangan Institute, well ahead of schedule.
"If you know Jordan, that will come as no surprise," said Simon Bugeja, Mercury Marine Victoria & Tasmania Service Manager.
"His work ethic is really strong and he's always enthusiastic and wanting to learn. He doesn't just want to know what works, but how and the why it works - which is a great trait."
Not only has Jordan built a great track record at Mercury, rebuilding engines and fitting out boats, but he proved he's also up to the mark on customer service, having successfully worked on the Mercury stand at numerous boat shows.
"When he applied for the apprenticeship he clearly had a love of the water and great ability – he'd built his own hotrod – but he lived on the other side of the city and faced a one to two hour journey twice a day which we thought might get too much, but no way, he's here every day with his sleeves rolled up," Simon said.
While the win was a shock to Jordan himself, it was less of a surprise to those around him like Simon and Mercury ANZP Director of Aftersales, Nicholas Webb.
"Well done to Jordan, it was a fantastic effort and a great reward for all his hard work!" Nicholas said.
 Jordan will now have his name etched on the perpetual trophy which hangs in the BIAV headquarters.
 "Again, thanks to everyone in the Mercury Team," Jordan said. "You've allowed me to turn my passion into the job I work day to day."