Mercury News
21 Feb 2020
4 Reasons to get a Mercury FourStroke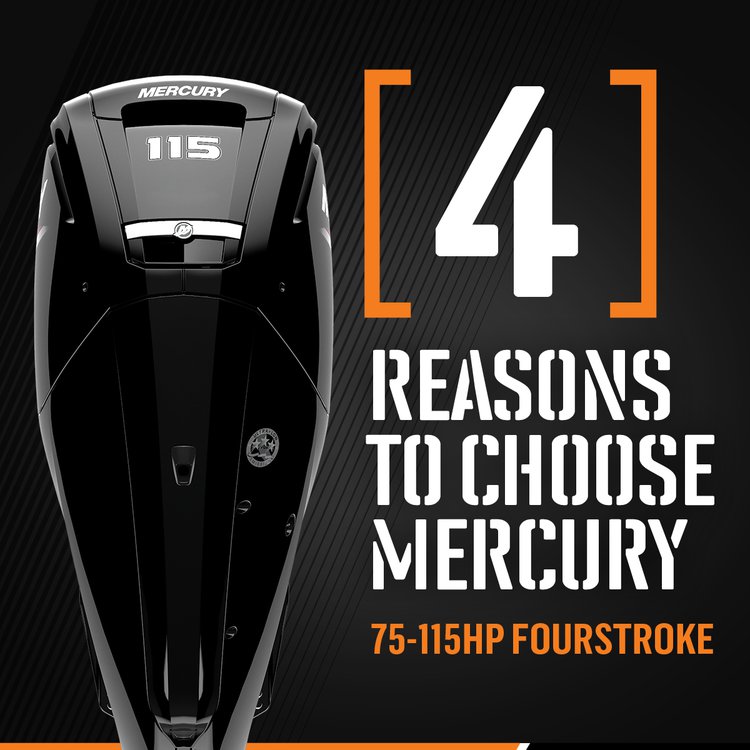 Save up to $1,500 on 75-115hp outboards
Make 2020 more enjoyable for you, your family and friends by taking advantage of Mercury's remarkable offer on 75-115hp FourStroke outboards. Actually, Mercury is offering you four fabulous reasons to power your boat with its world-leading four stroke technology.
1) Save up to $1,500
To start the year off in style, Mercury is offering savings of up to $1,500 on the recommended retail price of their 75-115hp FourStroke outboards. That sort of saving is a great reason all by itself, but Mercury has much more on the table.
2) 3.99% on Boat Packages or Repower
Mercury Finance is providing low rate specialist finance for just 3.99% (comparison rate) on BMT (Boat, Motor & Trailer) packages and Repower. It all adds up to big savings!
3) Lightweight and Compact
Mercury's 75-115hp engines, designed and built for less weight and high displacement, generate abundant torque and immediate power so they will make your boat plane faster and accelerate better… and that all adds up to more fun on the water.
4) Best-in-Class Performance
Mercury simply leads the way in marine technology, and these FourStroke engines are clearly the best in their class. Across the board, Mercury FourStrokes provide no-compromise performance and reliability along with excellent fuel efficiency, smooth handling and that quiet operation everyone will appreciate.
Savings
Save $1,000 on 75hp and 80hp
Save $1,150 on 90hp and 100hp
Save $1500 on 115hp and 115hp Pro XS
Mercury SeaPro models – from 75-115hp – are also available at these great discounts along with the 115hp Pro XS outboard. However, SeaPro/commercial applications are excluded from the Mercury Finance offer.
This amazing opportunity will only be available until 23 March 2020, so if you are in the amrket to upgrade to a new, class-leading engine - or an entire BMT package – head down to your nearest participating Mercury dealer without delay to find out just how good these engines are.
Visit www.mercurymarine.com.au for more information.