Verado® – a smooth operator
The smooth, refined power of a 4.6-litre V-8 powerhead delivers exhilarating acceleration and top speed to run offshore with confidence, while its generous displacement and robust design provide uncompromising durability and reliability. The Mercury-exclusive Advanced MidSection (AMS) and under-cowl noise management set the standard for smooth, quiet marine propulsion. These exciting new Verado V-8 outboards are wrapped in crisp, bold styling that makes an unmistakable statement on any transom.
Engine Information and Specifications
Engine Details

Lighter than its competition yet built to withstand the rigours of saltwater operation. For go-fast boats and commercial offshore operations that operate in rough seas or need more speed. Great for deck, inflatable rigid hull, inshore fishing, multi-species fishing, offshore fishing and runabout cuddy boats and tritoons.

Specifications - 300

HP / kW
Engine type
MidSection

Advanced MidSection (AMS)

Displacement (CID/CC)
Displacement (L)
Cylinder Configuration

V-8 [64 degree] with Dual Overhead Cam [DOHC] and 32-valves

Full throttle RPM
Air induction

Performance-Tuned Long-Runner Intake Manifold

Fuel induction system

Electronic Fuel Injection (EFI) Computer Controlled with Advanced Range Optimization

Alternator amp / Watt

115-amp (1449 Watt) with Idle Charge

Recommended fuel

Unleaded Regular 87 Octane Minimum (R+M/2) or 90 RON 10% Ethanol Maximum

Recommended oil

NMMA Certified FCW SAE 10W-30

Engine protection operator warning system

SmartCraft Engine Guardian

Compatible with SmartCraft digital technology
Starting

Electric Start with SmartStart Protection

Controls

Digital Throttle & Shift (DTS)

Steering

Electro-hydraulic power steering
Joystick Piloting for Outboards

Shaft length

20" / 508 mm
25" / 635 mm
30" / 762 mm

Gearcase ratio
Dry weight *Lightest model available
CARB star rating
Bore and stroke

3.6 in x 3.4 in / 92 mm x 86 mm

Ignition

SmartCraft PCM 112 Digital Inductive

Cooling system

Water-cooled with thermostat

Gear shift
Gearcase options
Trim system
Exhaust system
Counter Rotation
Color

Cold Fusion White
Pearl Fusion White
Phantom Black
Warm Fusion White

Lubrication system
Oil Capacity
Maximum Trim Range
Maximum Tilt Range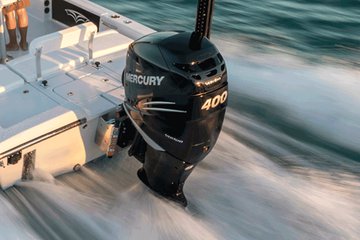 All-new 400hp Verado outboard engine
Mercury Marine has announced the launch of the 400hp Verado outboard engine, the company's highest horsepower Verado branded outboard engine in its portfolio. Since the launch of the 350hp Verado and the Mercury Racing 400R four years ago, consumers have been requesting a higher horsepower Verado engine, and today, boaters around the world will have the opportunity to repower thanks to this extension of Mercury's L6SC Verado platform.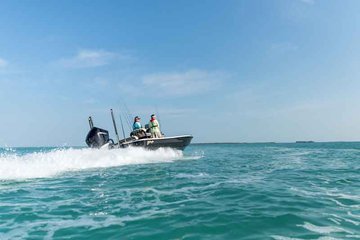 Looking for performance data?
If you're looking at Verado outboards, you expect your engines to provide the finest, most enjoyable boating experience possible. Click HERE to access information on comfort, control, reliability, quiet operation, awesome performance and more from the new Verado motors.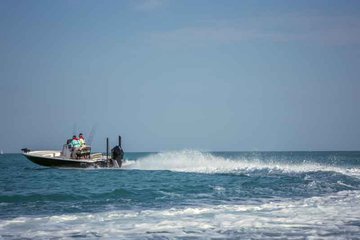 Adaptive Speed Control
Whether you're heading up a swell or into a tight turn, Adaptive Speed Control on V8 Verado outboards automatically maintains the set rpm even as load or conditions change. That means you make far fewer throttle adjustments.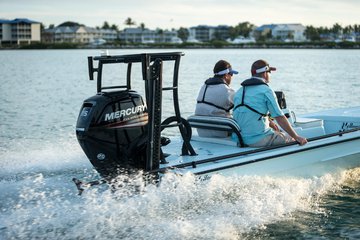 Making Boating Easier
Available Active Trim makes boating easier and more enjoyable by automatically trimming your engines and simplifying boat operation while improving engine performance and decreasing fuel costs.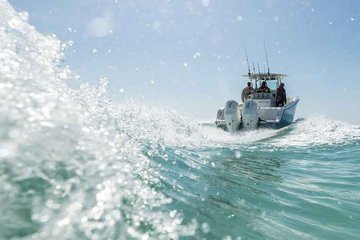 Save Fuel
Verado V8 outboards deliver superior fuel economy at cruising speed and wide-open throttle. Advanced Range Optimization (ARO) calibration precisely adjusts the fuel mixture and delivers the best possible efficiency at any speed. Verado V8 outboards are calibrated to deliver full performance on 87-octane fuel.
Joystick Piloting for Outboards
Full 360-degree control. Right at your fingertips. Joystick Piloting for Outboards allows you to move sideways, diagonally or spin the boat on its own axis. Dock in close quarters without being concerned about wind or current. Easily load the boat on a trailer – using only your fingertips. See How Easy It Can Be

Documents
Brochures
Take a deeper dive into what makes Mercury outboards stand apart with detailed information on each motor and the features that make them unique.